Cast Iron Sweet Cherry Rolls are a great alternative to cinnamon rolls.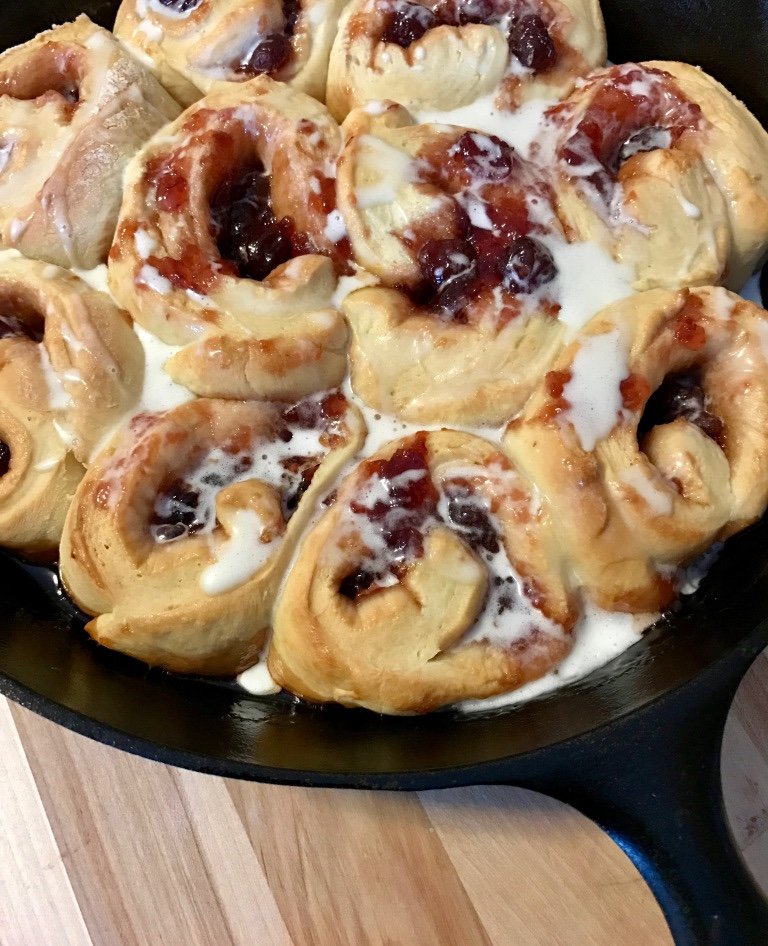 Ingredients
3 1/2 to 3 3/4 cups all-purpose flour
1 (1/4 oz) package active dry yeast
1/2 cup whole milk
1/2 cup sour cream
6 tablespoons unsalted butter, cubed
1/3 cup sugar
2 teaspoons kosher salt
1 large egg, lightly beaten
1 cup cherry preserves
1 teaspoon lemon zest
1 1/2 cup powdered sugar
1/2 cup heavy whipping cream
Instructions
In a stand mixer bowl, combine flour and yeast.
In a medium saucepan, combine milk, sour cream, butter, sugar and salt. Cook on medium heat until mixture reaches about 120 degrees, stir occasionally.
Add butter mixture to flour mixture while the mixer is on low speed. Then add the egg. Mix until it turns into dough. You might have to add flour depending on how sticky it is.
Switch to a dough hook on stand mixer and beat dough for about 5-10 minutes. The dough shouldn't be sticky.
Let dough rise for 1 hour 30 minutes in a warm place.
Once dough is ready roll it out in a 14×10 rectangle. Spread cherries, lemon over dough and fold over and seal edge. Cut into 10 rolls.
Preheat oven to 350 degrees and and bake for 30 minutes in a 12″ cast iron skillet.
Mix cream and powdered sugar to make a topping for the rolls after they are done.
Credit: Cast Iron Desserts 2016 Magazine (page 60)