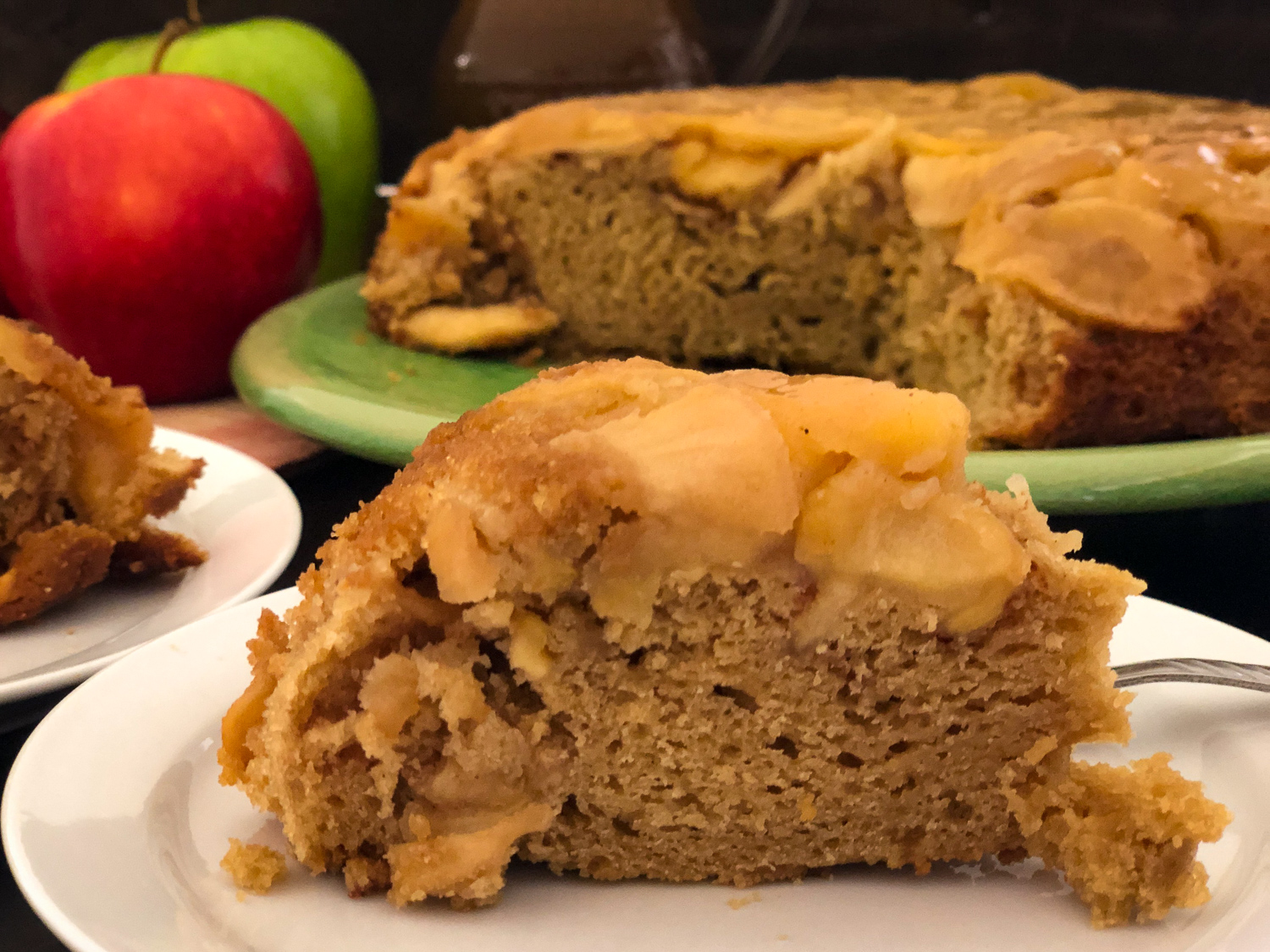 Dutch Oven Apple Cake is delightfully easy, anytime of the year cake the whole family will enjoy; deliciously topped with ice cream, caramel, or both.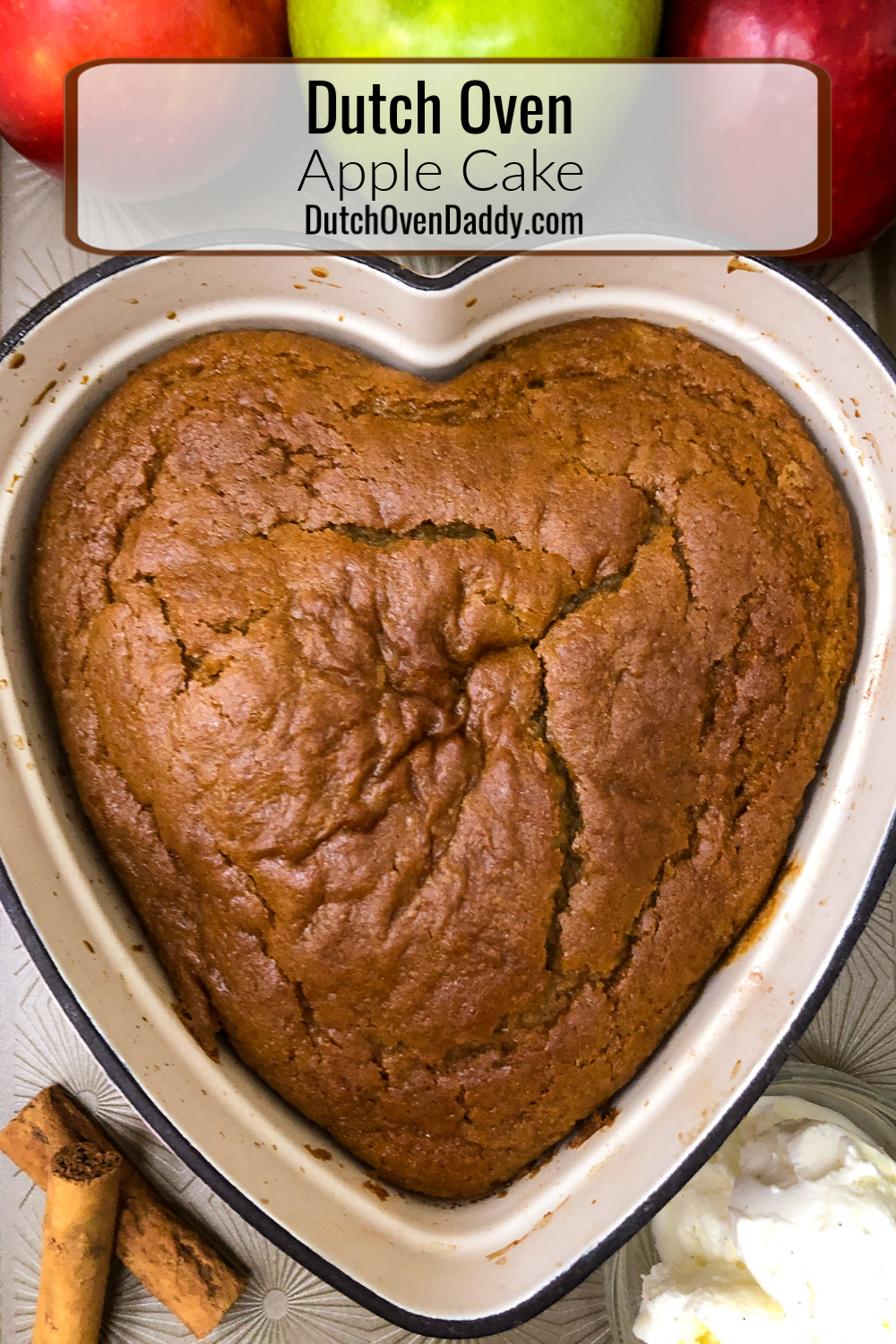 What is an apple cake?
Simple cake batter seasoned with warm baking spices combined with fresh, canned, or dehydrated apples then baked for a scrumptious treat.
This version can be sliced in the pan or can be turned out and served as an upside down cake. However you present it, served still warm is best.
Is apple cake American?
We've embraced the saying 'as American as apple pie.' But what about apple cake? Is that American too?
If we're talking deep origins, who gets credited with mixing apples and cake, then no. There's very few things America gets credited with culinary-origins-speaking except maybe ketchup on macaroni and cheese or fried chicken and waffles?
I joke of course. But since this is Dutch Oven apple cake, it's all-American to me.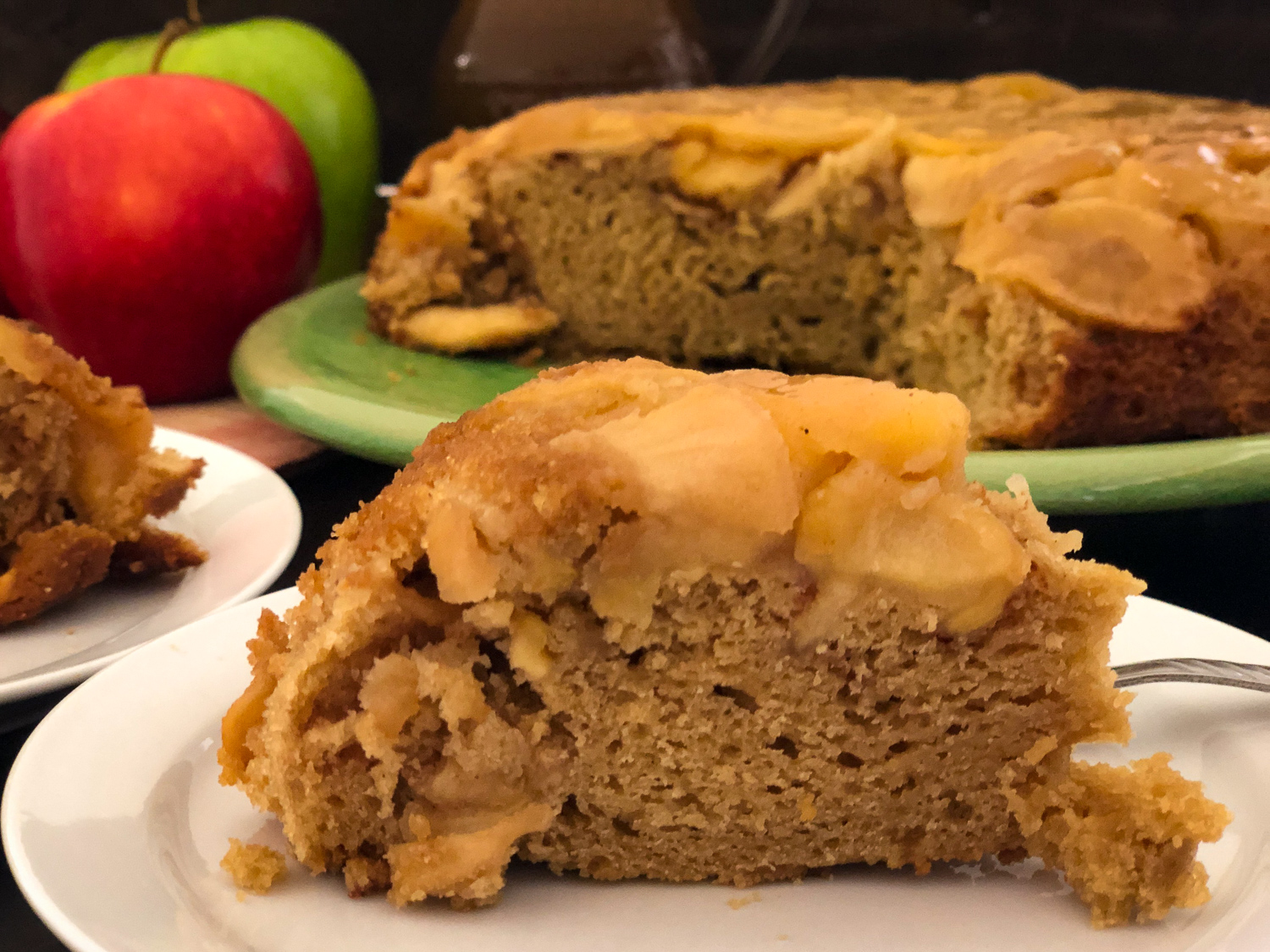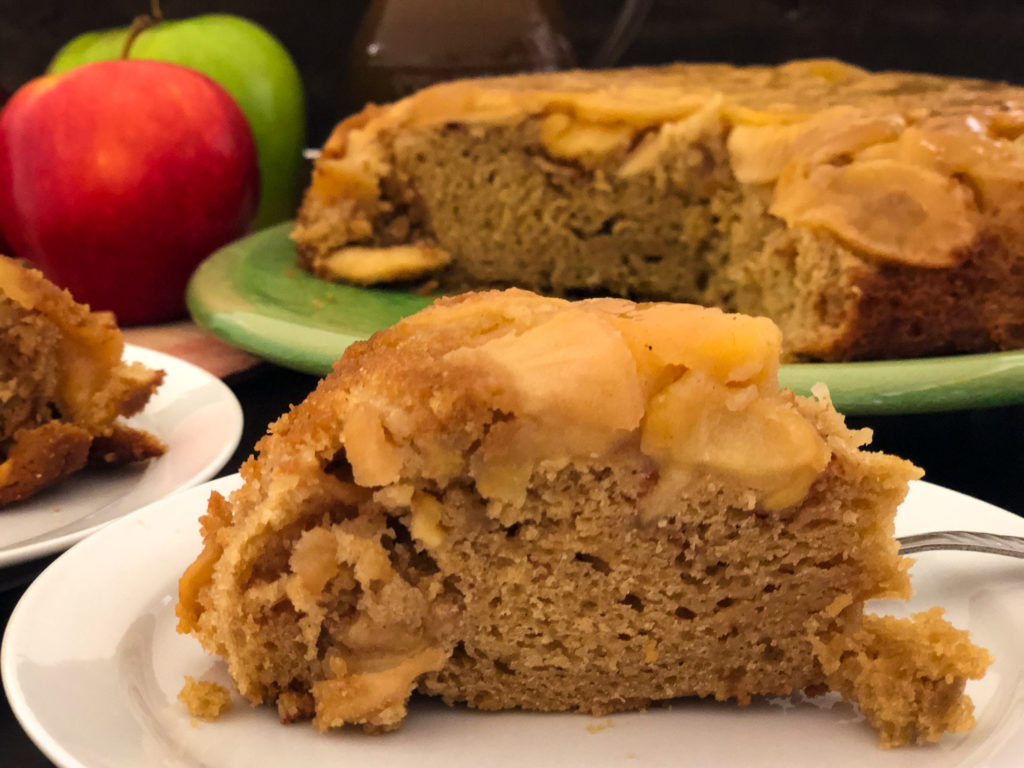 Many think apple pie is either American or English (since the English settled America), but turns out apples come from Asia. I suppose if we were to trace cakes plus apples, we've end up somewhere in an Asian land or at the very least somewhere along the Silk Road.
But we Americans are adept at making things our own and that's what we've done with this delicious cake.
What kind of apples should I use for apple cake?
This recipe is a family favorite; it's my mom's! I have taken her cake recipe and adapted it for the Dutch oven.
I followed both my wonderful mother's version using dehydrated apples and then went a bit rogue by making a version using fresh apples.
When using fresh apples for this cake, I recommend using a mixture. I used 4 different apples to get a really nice blend of sweet and tart, along with textures.
I have used Gala, Fuji, Golden Delicious, and Granny Smith.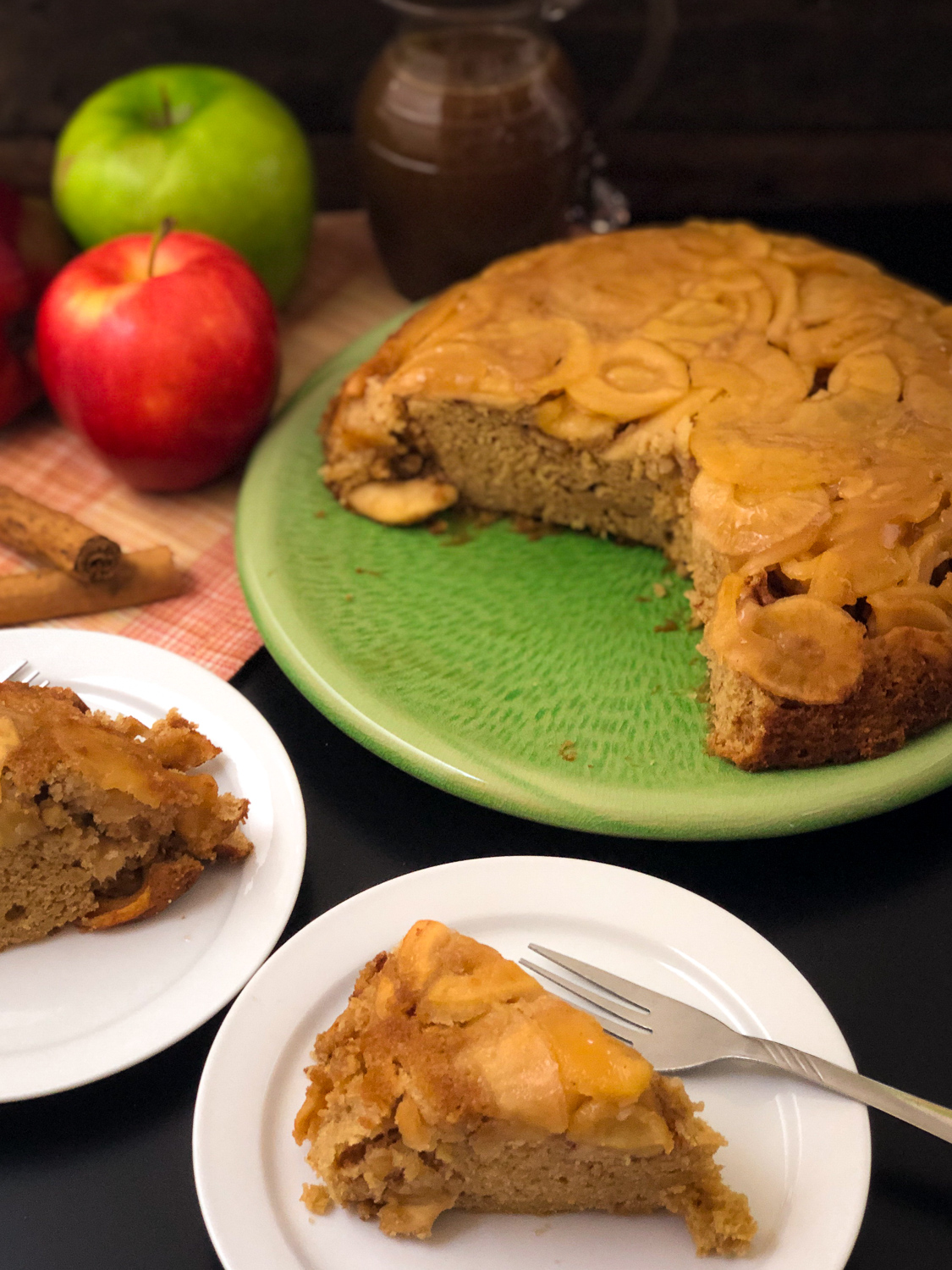 From other baking I have done, Jonathan, Braeburn, Jonagolds, Pink Lady, and Honeycrisp all would work well too.
I do not recommend using red delicious. They're just wrong on every level. For eating, for baking, for anything other than maybe using in photography. (Might have a slight bias here, but who actually likes that variety anyway?)
Can I use dehydrated apples in a cake?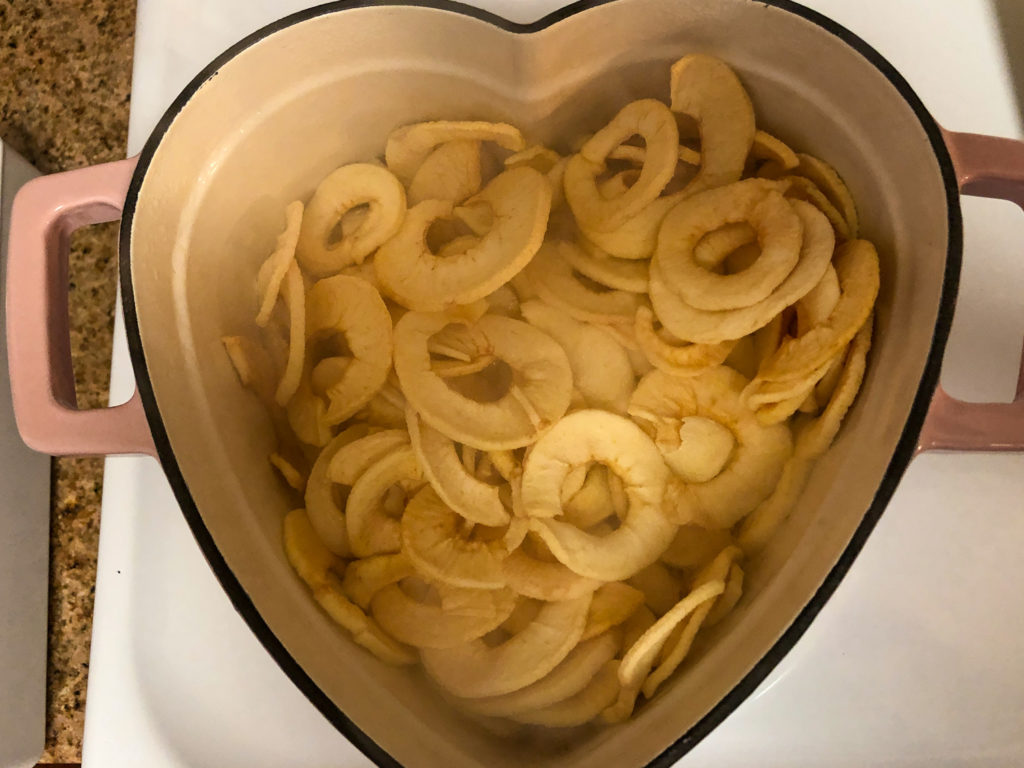 Why yes you can. Using dried apples is great when your store doesn't have the variety you're after when out of season.
The wonderful thing about dehydrated apples besides being an easy treat while hiking and camping, they can be rehydrated and used in many recipes.
Allowing the apples to spend some time soaking is essential to their turning out well. You cannot go straight from dried to being tossed in the cake.
How do you cut apples for apple cake?
To be honest, I have one of those apple core, peeler, slicer gizmos that suctions itself to the counter top.
In fact, when just cutting an apple for a snack, I use one of those cutters that you place over the top of the apple and push down, leaving you with perfect crescent slices.
However, if you're going to cut by hand, make sure you have a very sharp chef's knife and a cutting board.
Also have a bowl of either salted water or lemon water to submerge the apples in and help stall them from turning brown.
Start by peeling the apple. Apple skins do not work well in baking. Then slice the apple in half. Place it cut side down and then slice the apple around an 1/8″ thick.
If you want to be fancy, you can peel the apple and run your knife around the entire apple, lower it down a bit each rotation ending up with one long apple curl. But I fear for my fingers, so I'll stick with the gizmo.
Can I eat brown apples?
Yes, they are perfectly safe. They turn brown when the flesh is exposed to the air. There's a whole science to it that's above my pay grade to explain, but it's perfectly safe to eat browning apples.
Making easy apple cake in cast iron
First off, despite some of the pictures you will see here, do not make this in a non-enameled cast iron unless you're going to line it with parchment paper.
If you do, the cake will taste scrumdiddlyumptious but will look nasty. The cast iron will go from the normal rate of browning flesh to warp-10.
Stick with using enameled cast iron like this adorable pink heart shaped Dutch oven.
Alright, onto making this Dutch Oven Apple Cake.
Get your apples prepped, either fresh or dehydrated. Both will boil in some water. Very little water will remain at the end of this process.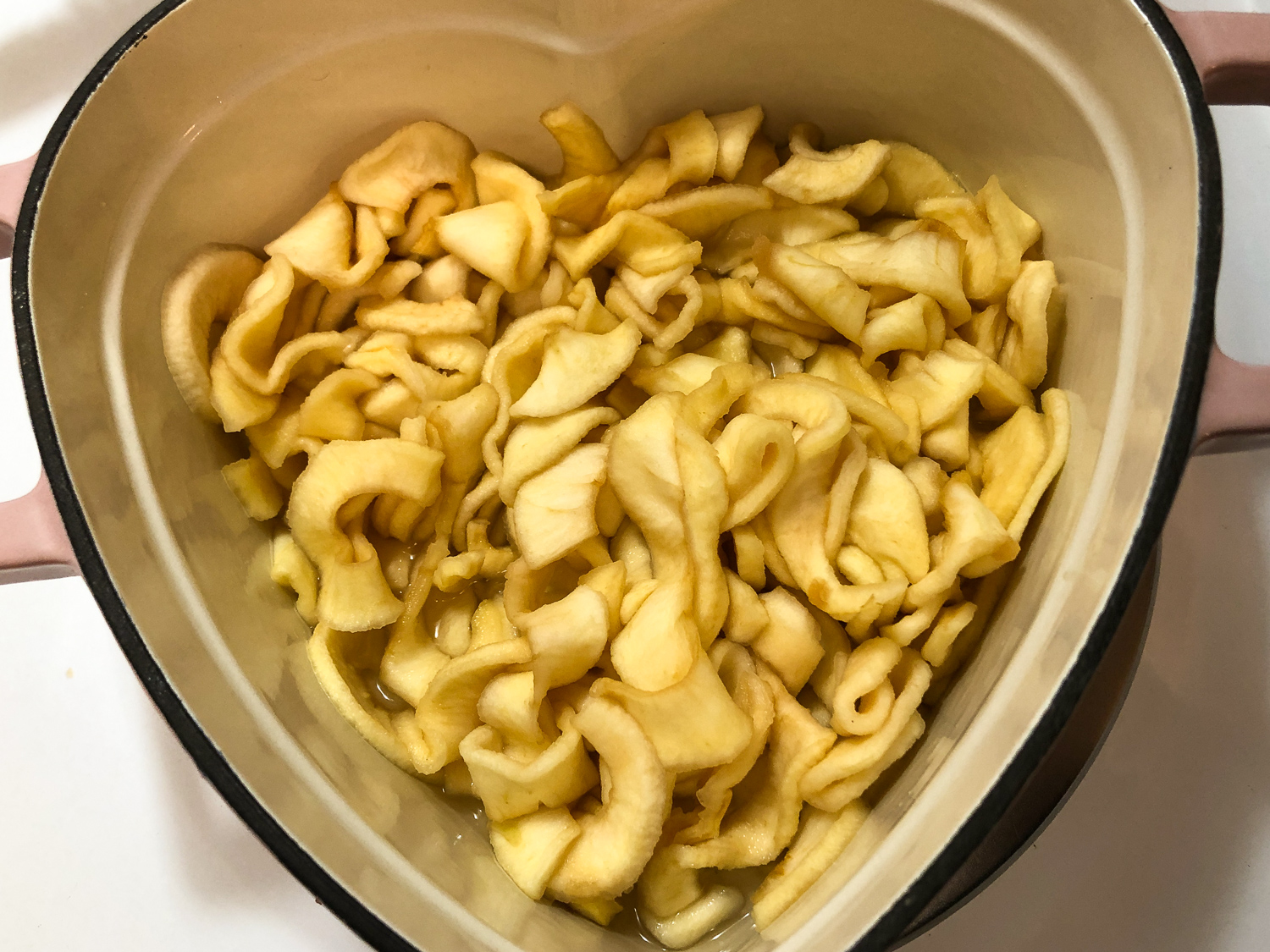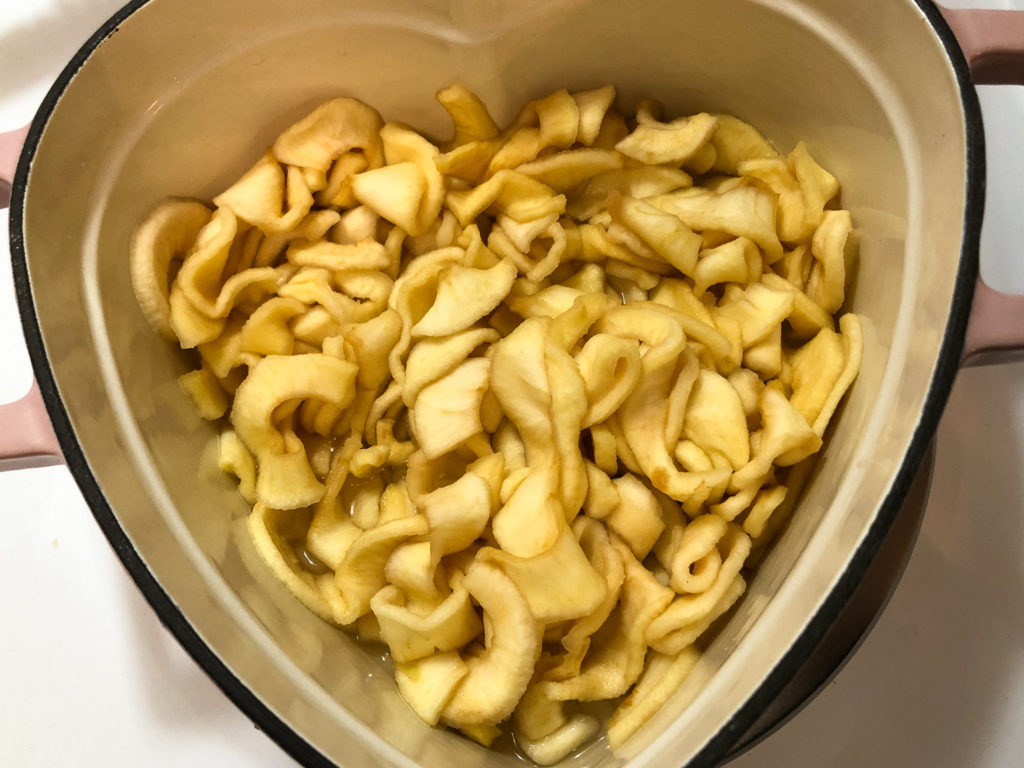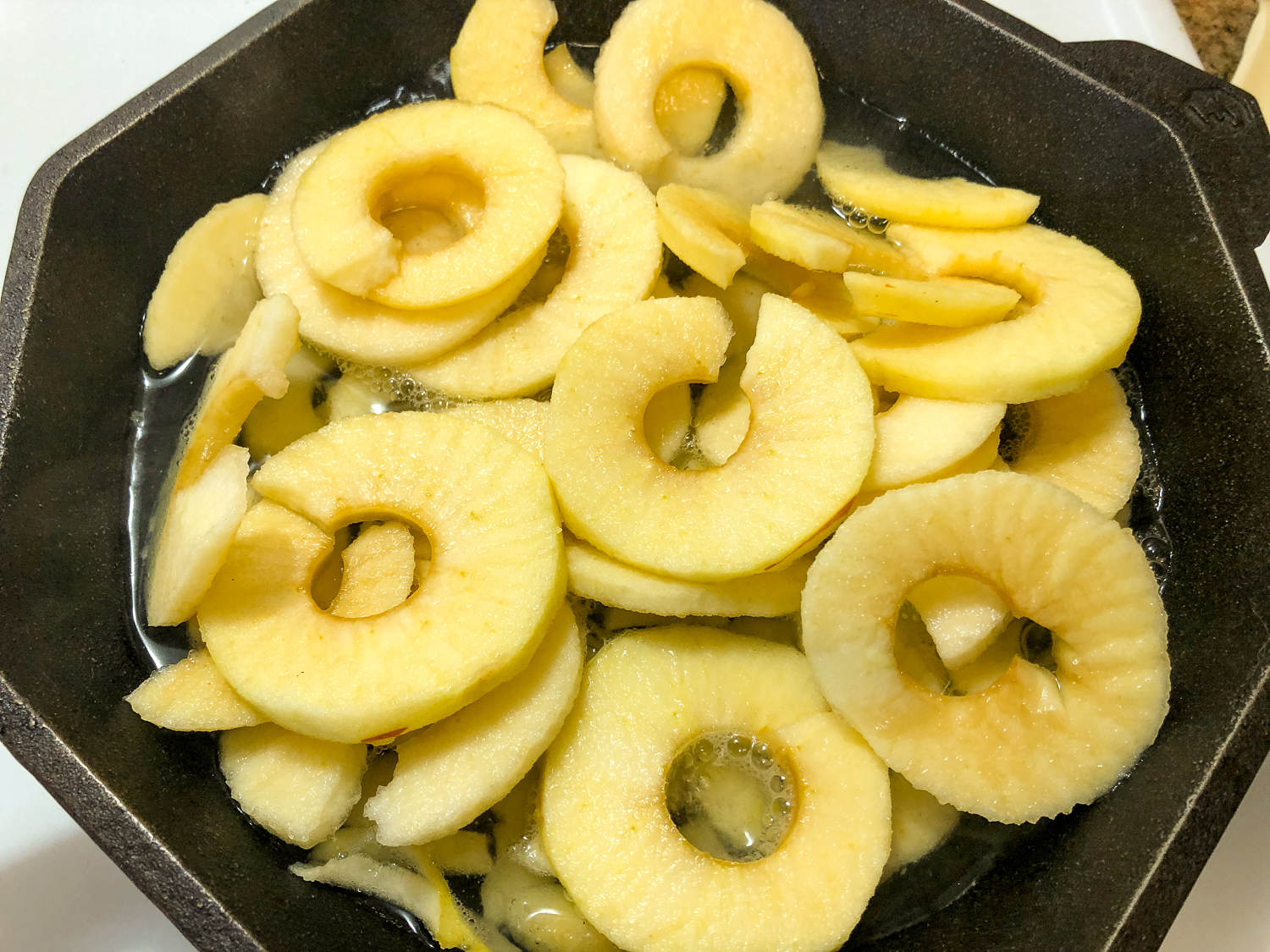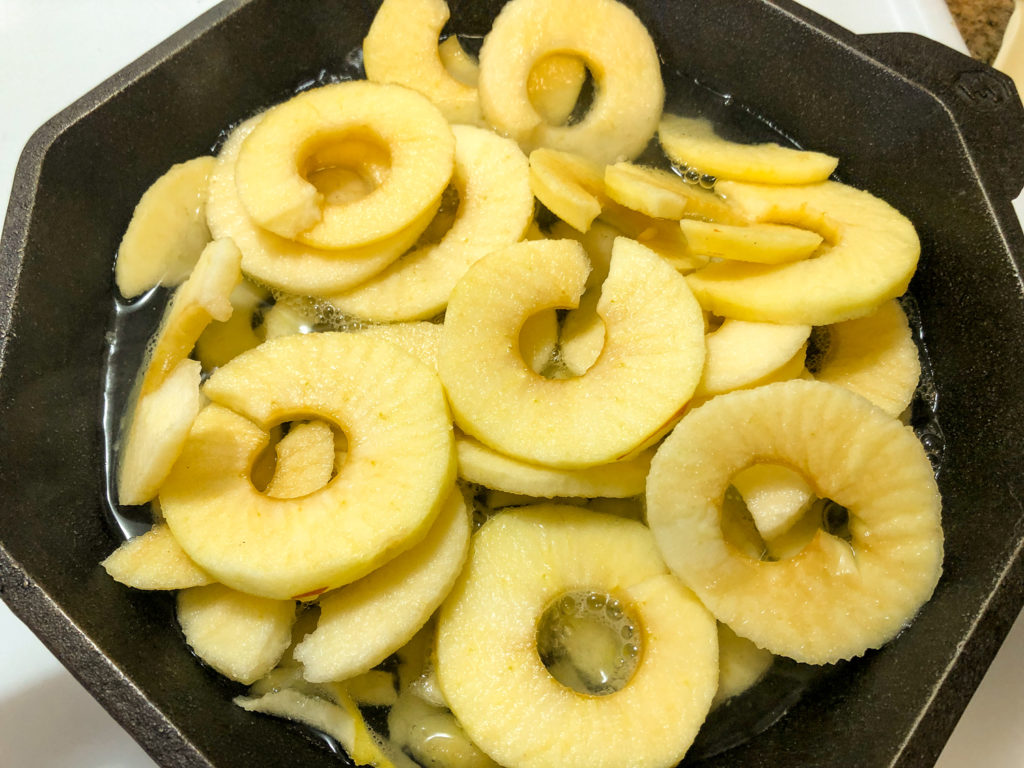 Sprinkle both sugar and cinnamon over the apples. Try to spread it as evenly as possible.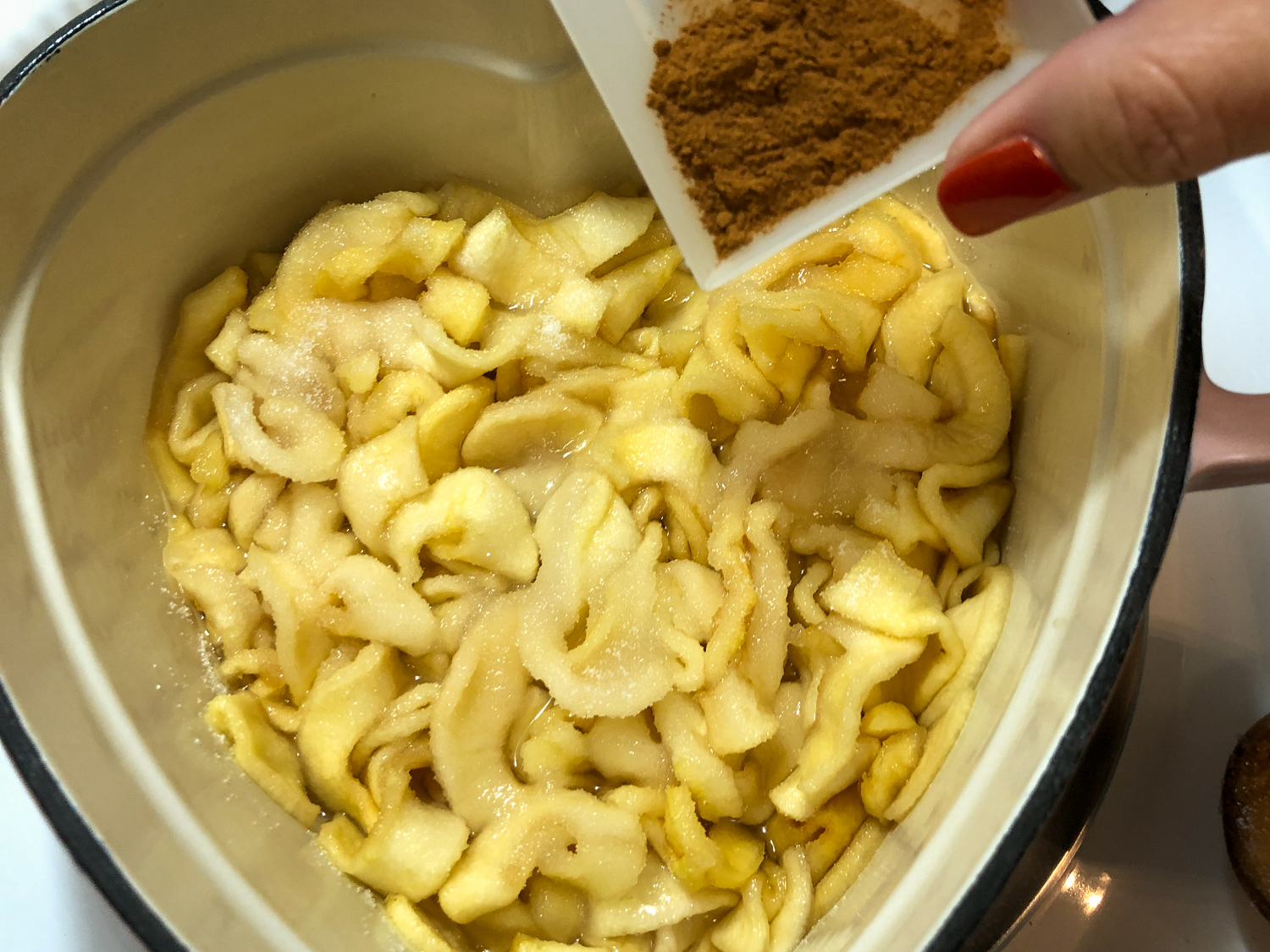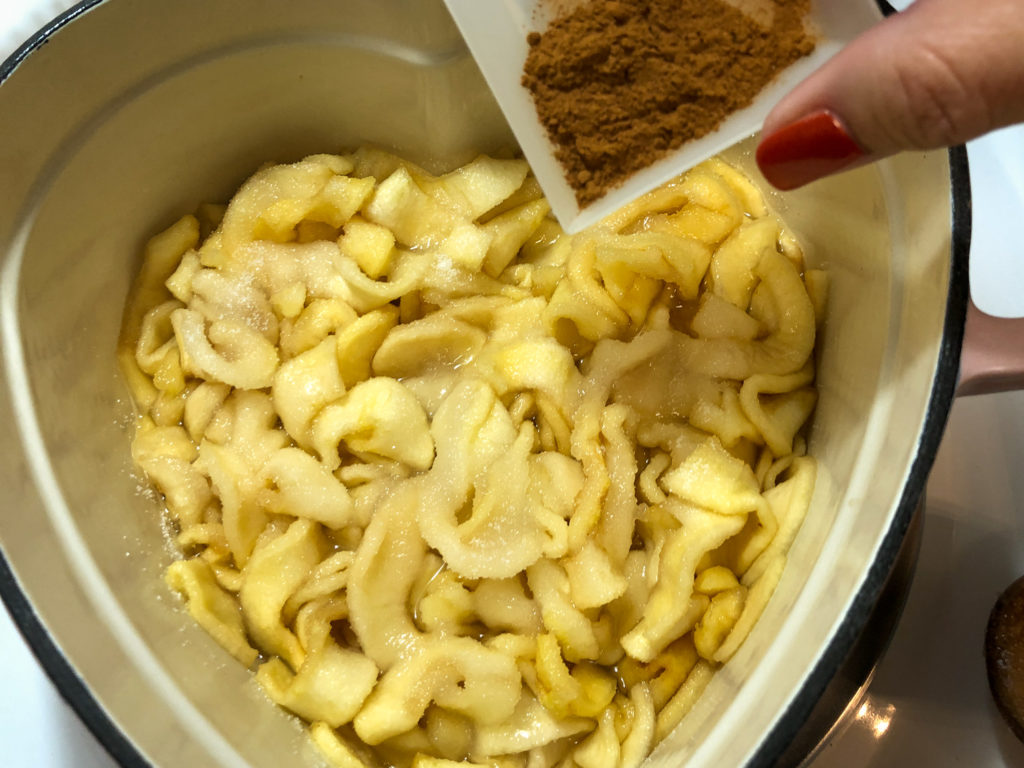 Preparing the cake batter
This can be done one of two ways:
You can simply mix everything together at once or cream the wet items together and slowly incorporate the dry items.
I made this both ways and there subtle differences in the end. all of the items being mixed together led to a bit denser of a cake. Dry into wet led to a slighter lighter cake.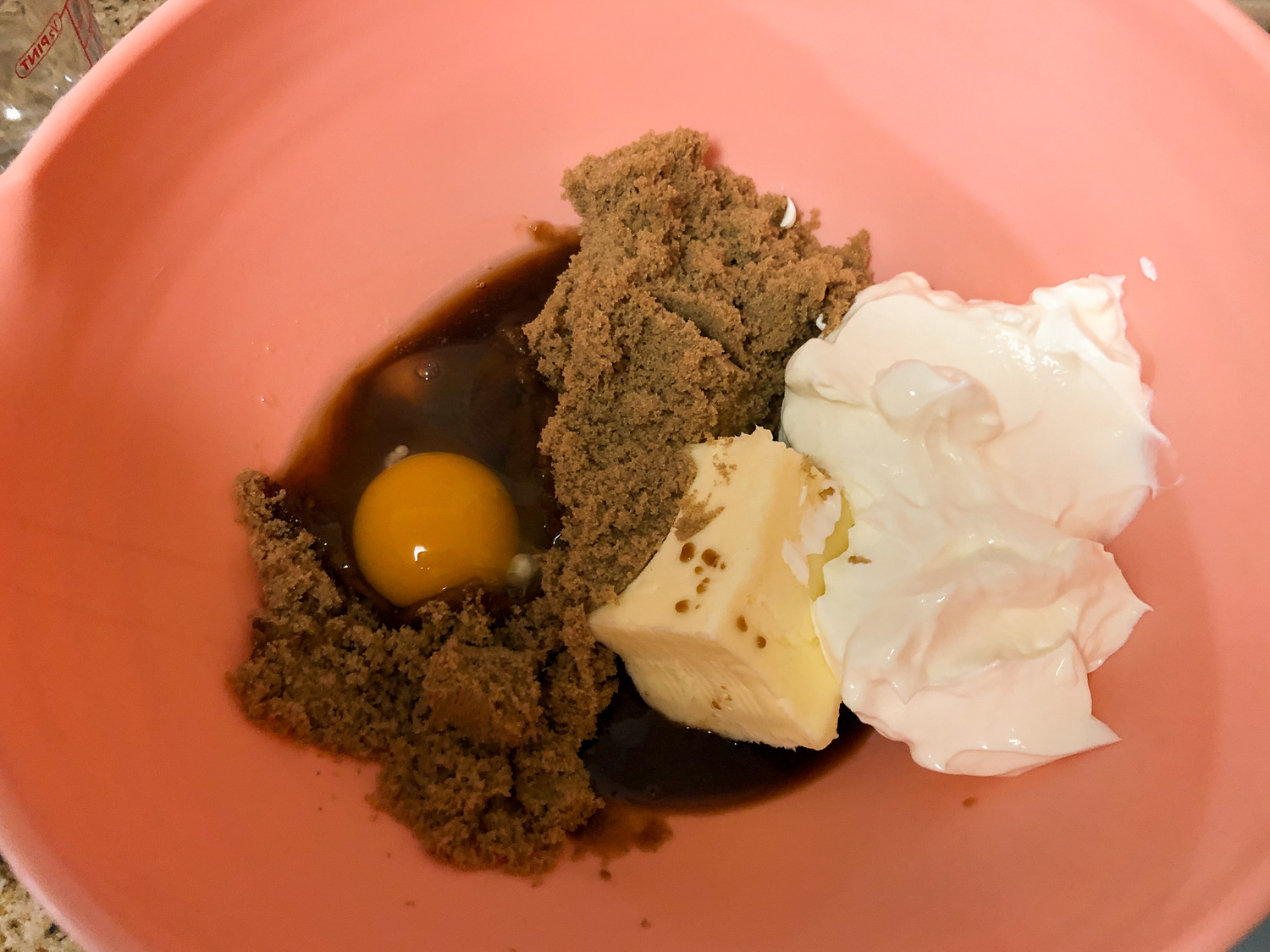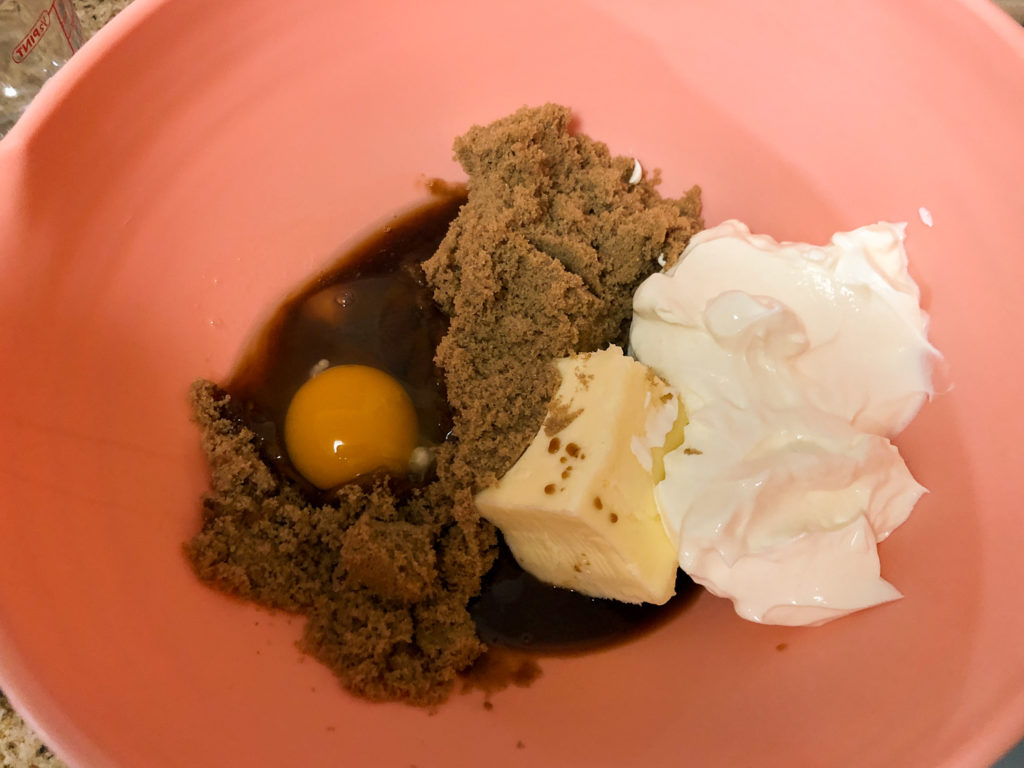 Cream together the vanilla extract, softened salted butter, sour cream, brown sugar and egg in a bowl.
Sift or fork the flour and baking soda together then a little at a time, add the dry mixture to the creamed wet mixture.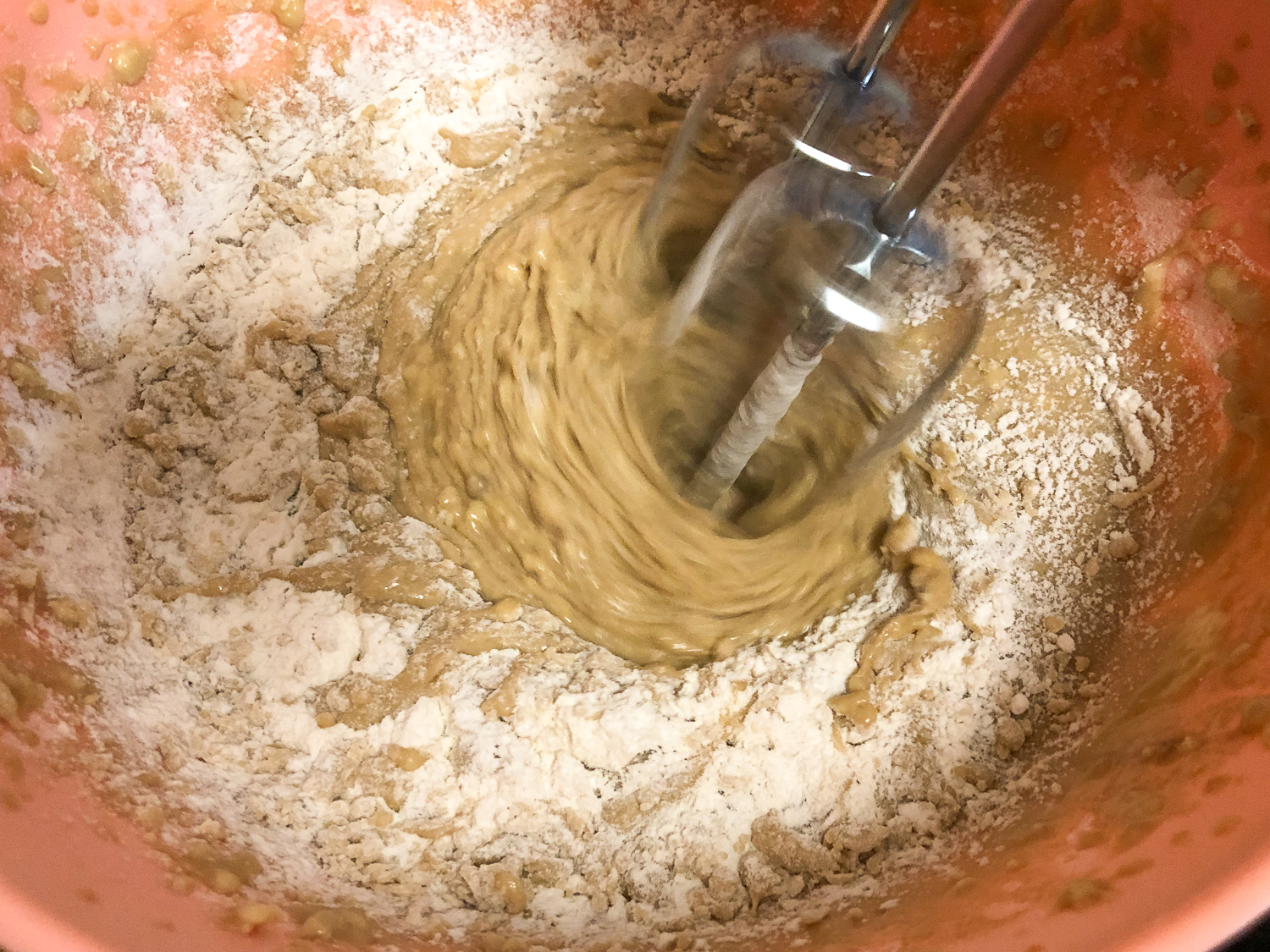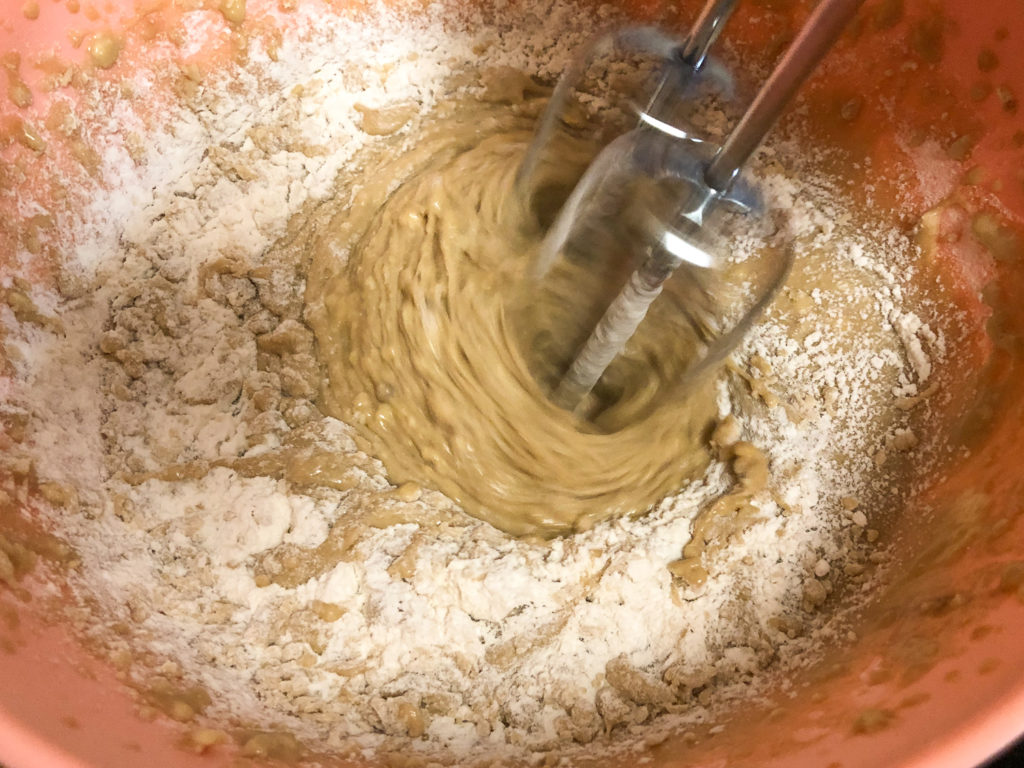 The batter doesn't need to be perfectly smooth, there will be some lumps and that ok. If you try to get them all out, you will have over-worked the batter leading to a less than desirable cake. One that is incredibly dense and even chewy.
Pour the batter over the apples in the dutch oven. Smooth it out, making it as evenly spread out as possible.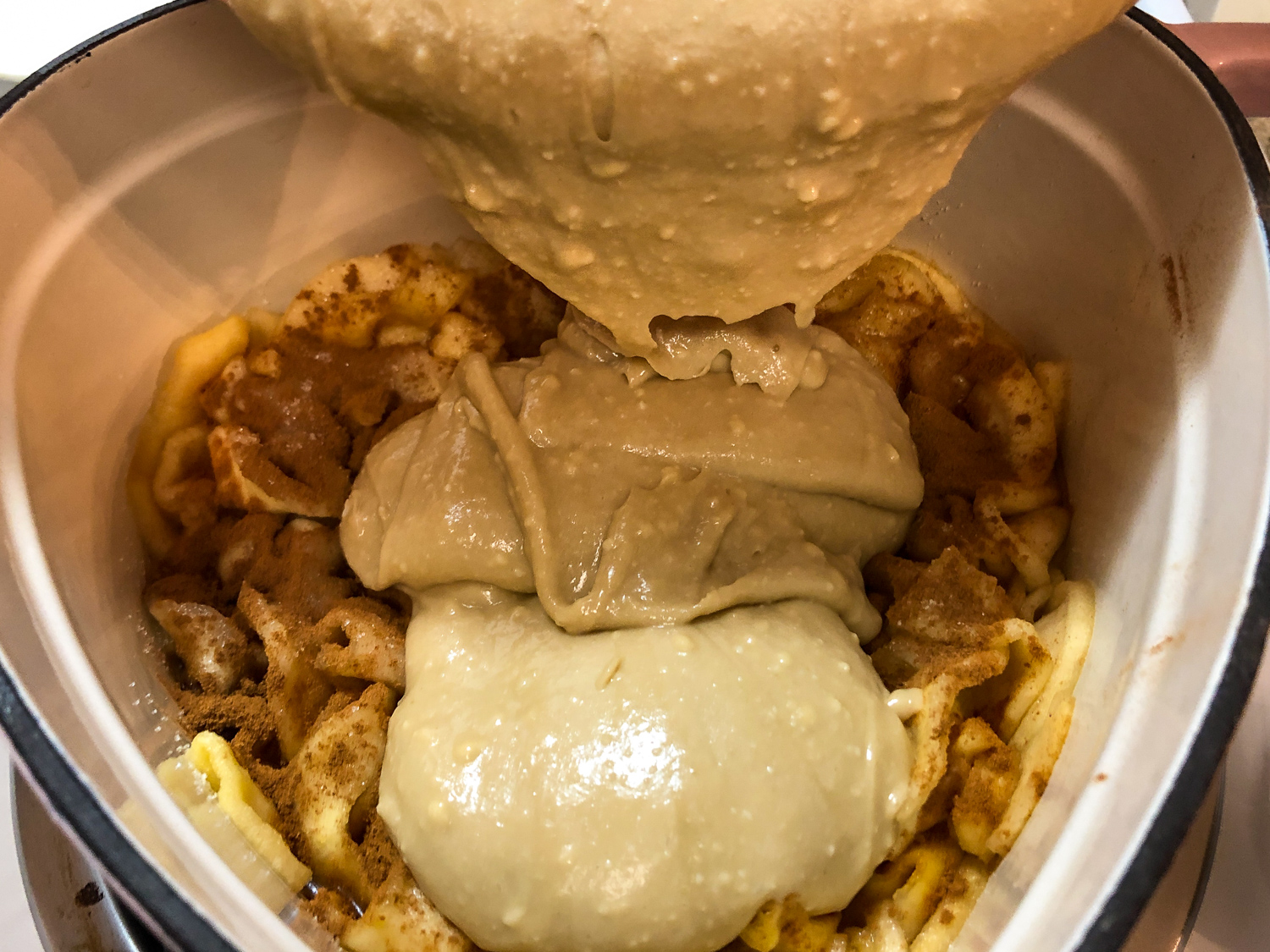 Bake the cake for 30 or so minutes at 350°F. Give it the ole toothpick test and remove it from the oven when done. Let it rest for a couple of minutes before serving, but it best served warm.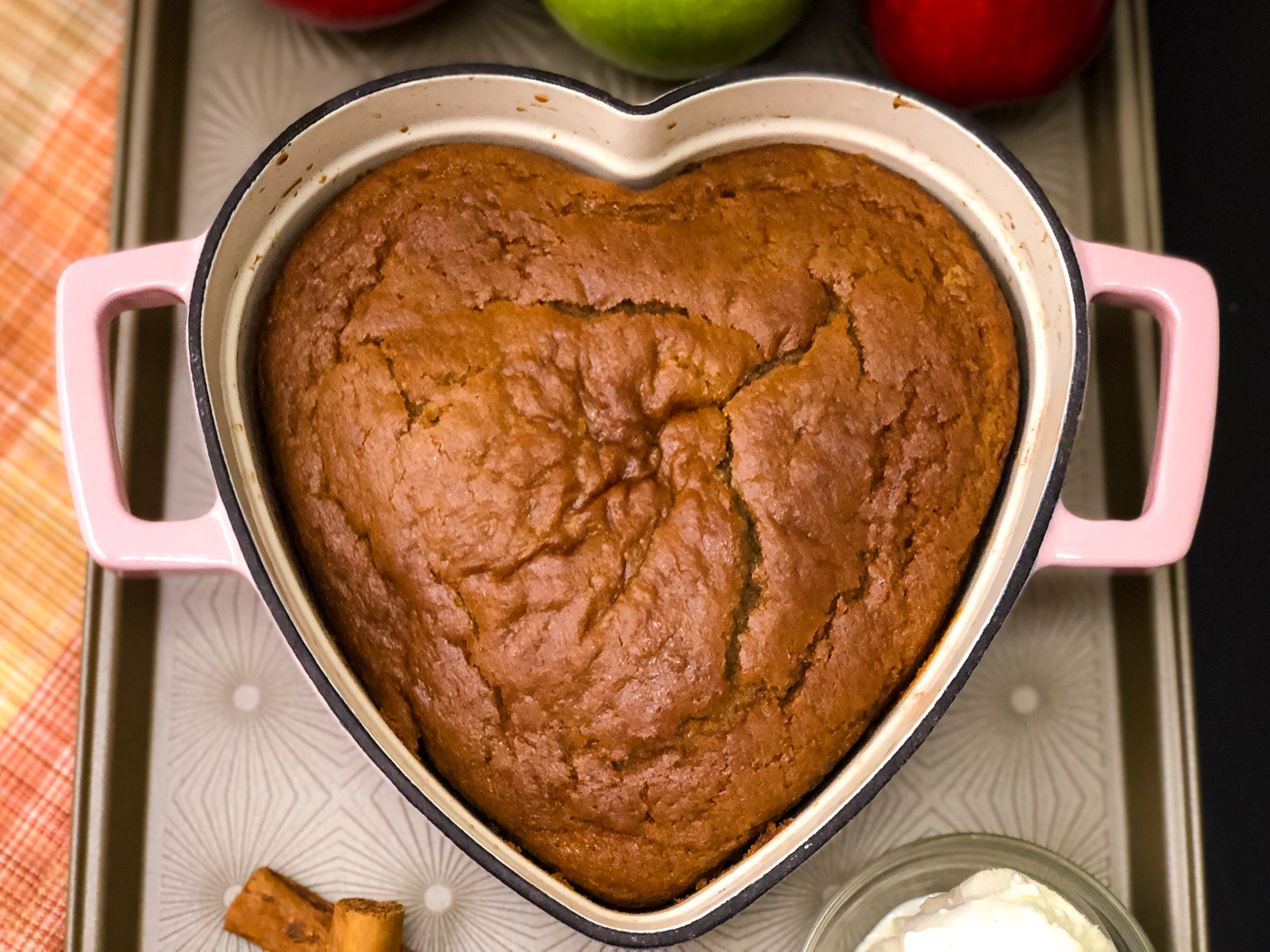 How long will Dutch Oven Apple Cake keep?
Fresh apples: It will last 2-3 days at most IF it's been kept in a sealed container in the refrigerator. The fresh apples will break down quickly. But I've never had a cake last longer than one day to know for sure.
Dehydrated apples: You can get an extra day, possible two longer out of this version of cake vs. fresh. But again they never last long enough around our house. Just be sure to keep it in the refrigerator.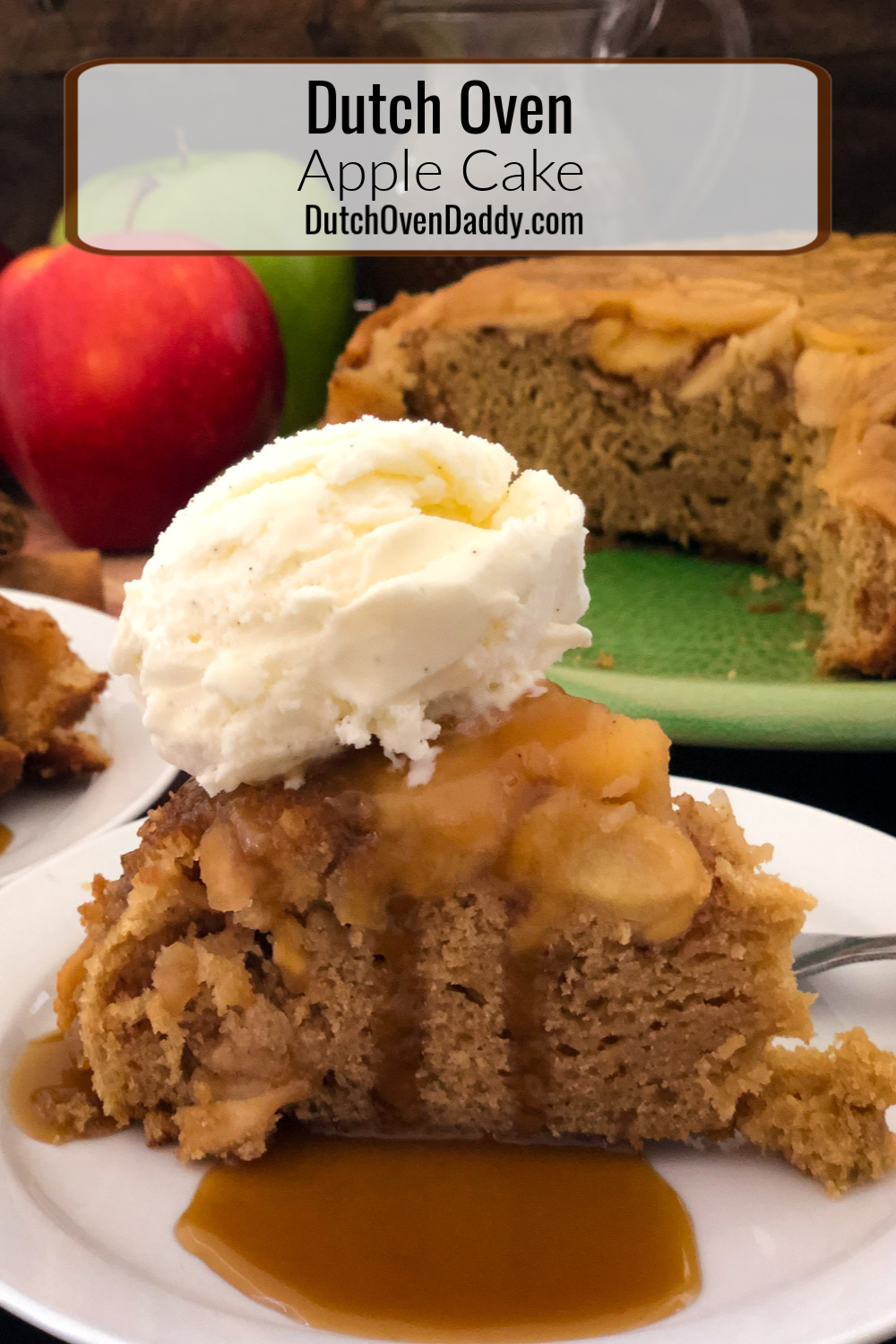 Easy delicious apple dessert recipes
An apple a day keeps the doctor away, or so they say. Actually, I think the new food pyramid says we have to have two a day. What better way than in a delicious dessert!?!
Oh, that's not how that works? Bummer. Well, enjoy these anyway.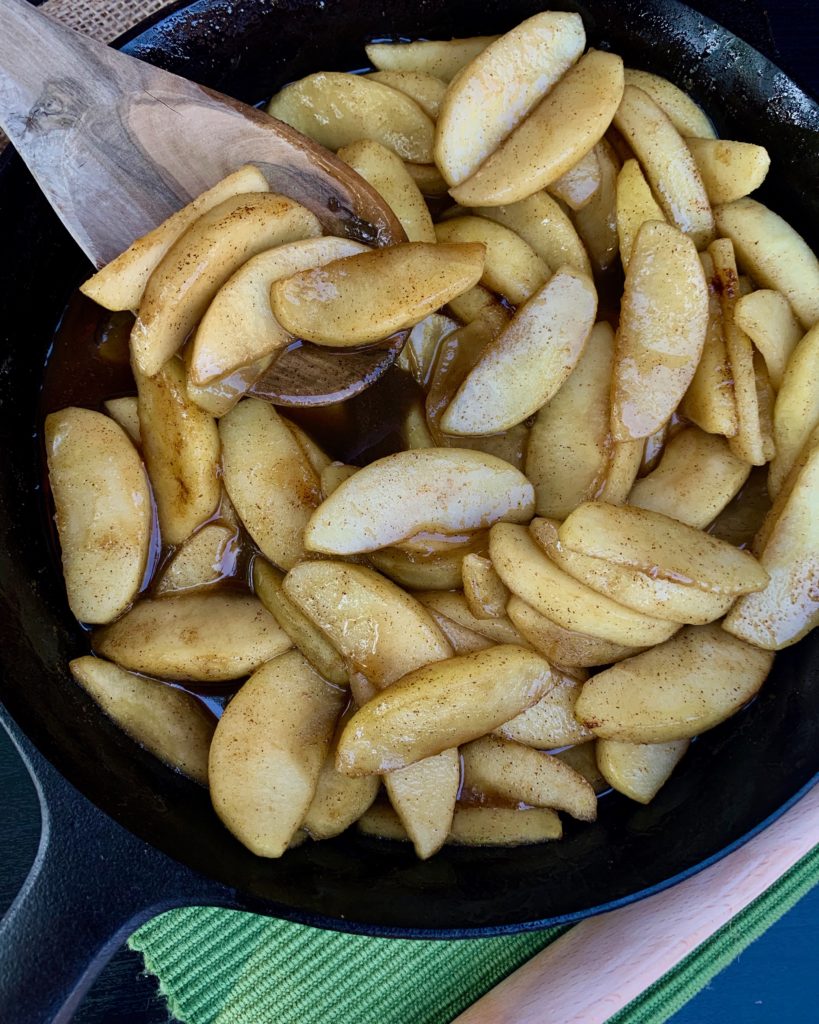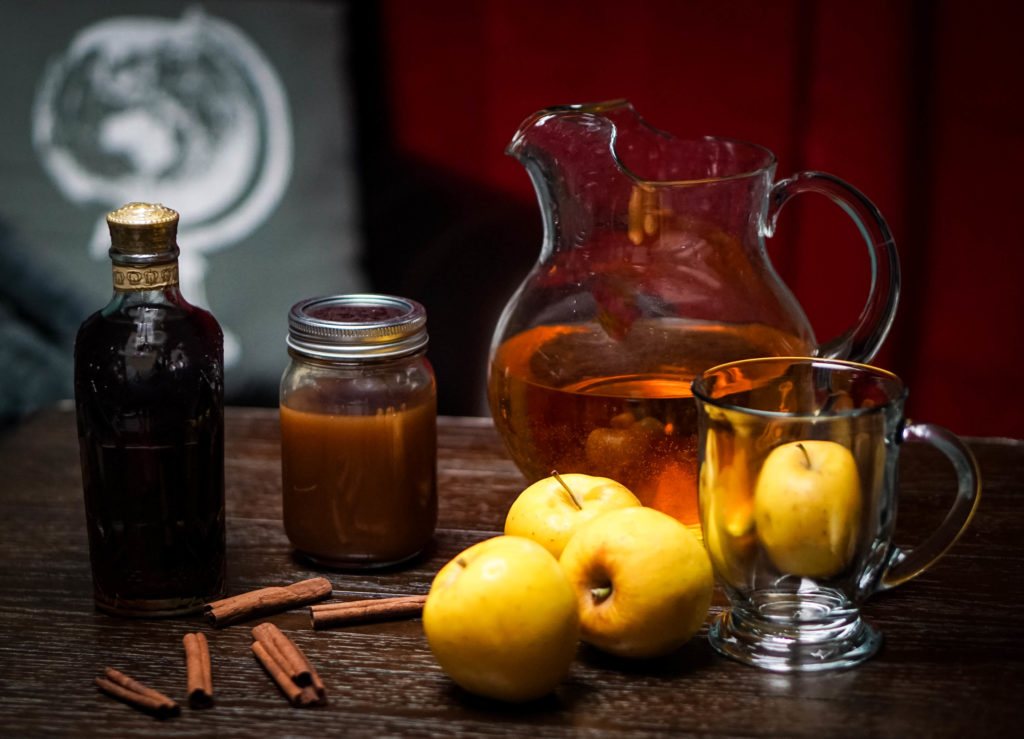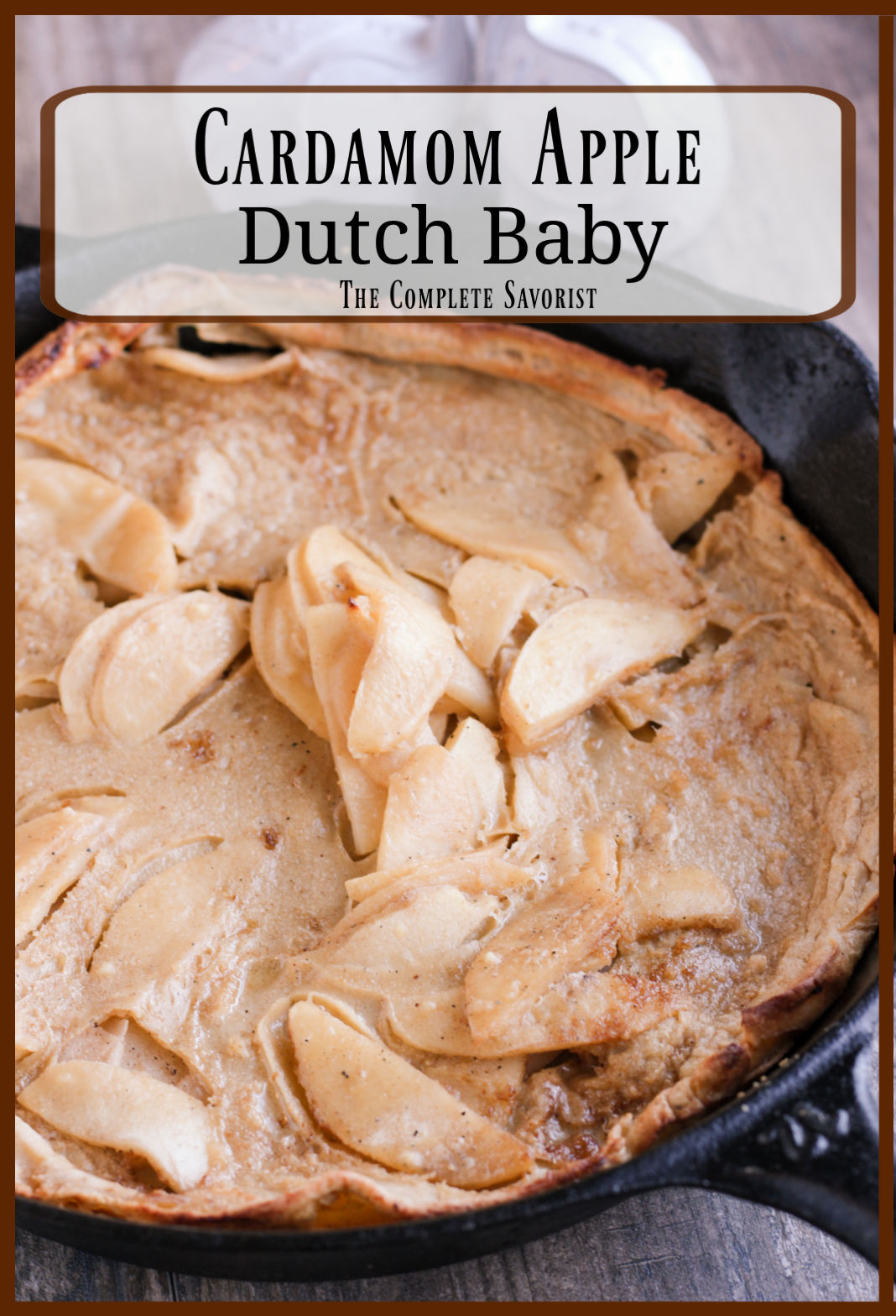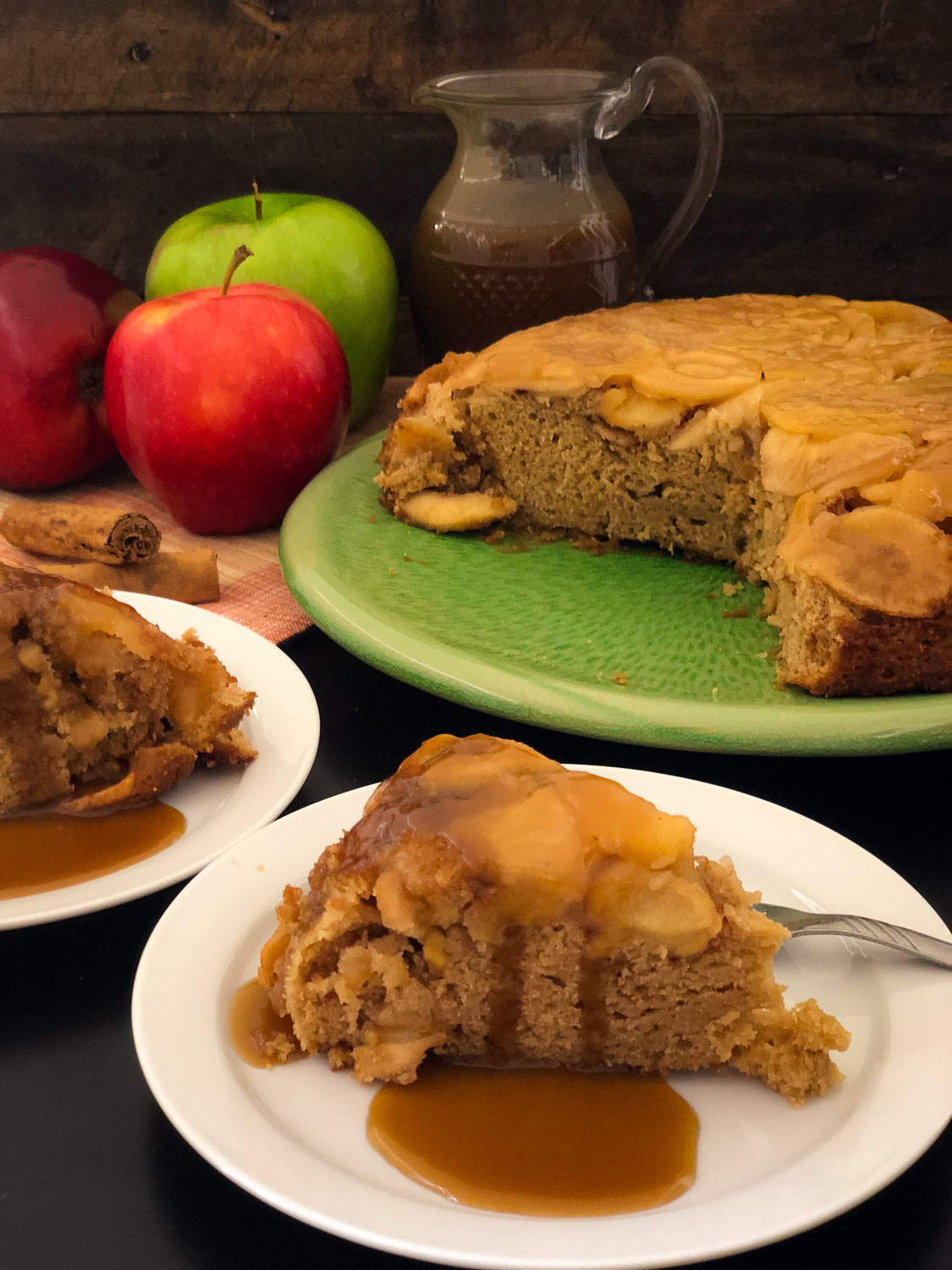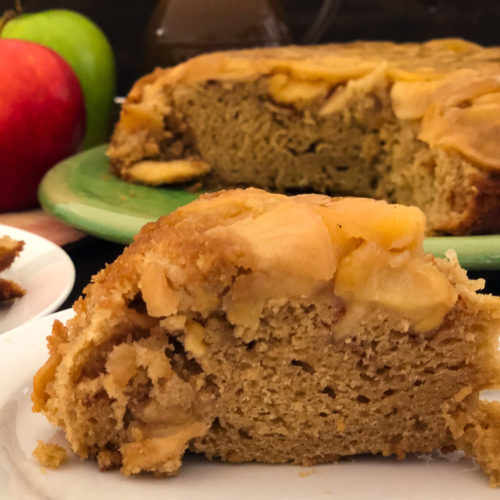 Print Recipe
Dutch Oven Apple Cake
Dutch Oven Apple Cake is delightfully easy, anytime of the year cake the whole family will enjoy; deliciously topped with ice cream, caramel, or both.
Equipment
3.5 quart enamled Dutch oven

10-inch enamled cast iron skillet
Ingredients
Fresh Apples
16

oz

apples

about 4 peeled and cored apples or 6 cups diced

1

cup

water
Dried Apples
4

oz

dried apples

1½

cup

water

boiling
Cake
¼

cup

white sugar

½

tsp

ground cinnamon

apple pie spice works too

¼

cup

salted butter

¾

cup

brown sugar

1

egg

(large)

½

cup

sour cream

¾

tsp

pure vanilla extract

1

cup

flour

½

tsp

baking soda
Instructions
Fresh Apples
Peel, slice, and core the apples. (see notes)

Add the fresh apples and water to an enameled Dutch oven and bring to a boil.

Allow the apples to boil for 2-3 minutes, drain all the water. Some clinging or residual water is ok.
Dried Apples
Add the dried apples and water to an enameled Dutch oven and bring to a boil.

Boil for 2-3 minutes, stiring gently allowing all the apples to absorb the water to rehydrate.

Only ⅛" of water should remain in the bottom; if remaining, pour off any excess.
Cake
Sprink the white sugar then the cinnamon over the apples in the Dutch oven

In a medium bowl, cream the butter, brown sugar, egg, sour cream, and vanilla extract together. (see notes)

Combine the flour and baking soda.

Slow mix in the flour into the creamed ingredients.

Pour the batter over the spiced apples, smoothing it out, making it even.

Bake for 30 minutes UNCOVERED.

Once a toothpick comes out clean, remove from the oven and allow to rest for 5 minutes.

Serve warm with your choice of toppings (ice cream, caramel sauce, whipped cream, etc.)
Notes
Fresh Apples: To keep the fresh apples from browning, place them in a bowl of cool water, enough to cover with either some salt or lemon juice. Drain and rinse before preparing the cake. 
Cake batter: It's perfectly acceptable to mix both the wet and the dry ingredients at the same time; it's a matter of personal preference. 
Nutrition
Calories:
311
kcal
|
Carbohydrates:
56
g
|
Protein:
3
g
|
Fat:
9
g
|
Saturated Fat:
6
g
|
Cholesterol:
43
mg
|
Sodium:
161
mg
|
Potassium:
196
mg
|
Fiber:
3
g
|
Sugar:
41
g
|
Vitamin A:
327
IU
|
Vitamin C:
3
mg
|
Calcium:
47
mg
|
Iron:
1
mg
Dutch Oven Daddy is not a dietician or nutritionist, and any nutritional information shared is only an estimate. We recommend running the ingredients through an online nutritional calculator if you need to verify any information.
Did you try this recipe?
Leave me a comment and rating below or Tag @DutchOvenDaddy on Instagram to show us your photos!
This post has been updated from its original March 7, 2018 publishing with new photography, content, and clarified recipe directions. This recipe as been adapted from my mom, the wonderful Joyce Adams.
https://www.dutchovendaddy.com/wp-content/uploads/2019/12/Dutch-Oven-Apple-Cake-30.jpg
1125
1500
Ned Adams
https://www.dutchovendaddy.com/wp-content/uploads/2019/02/Dutchovendaddylogo_web.png
Ned Adams
2019-12-18 12:06:35
2021-01-17 08:08:10
Dutch Oven Apple Cake