Buttermilk Biscuits are a classic southern breakfast recipe that goes so well with sausage gravy or a sweet treat topped with jam.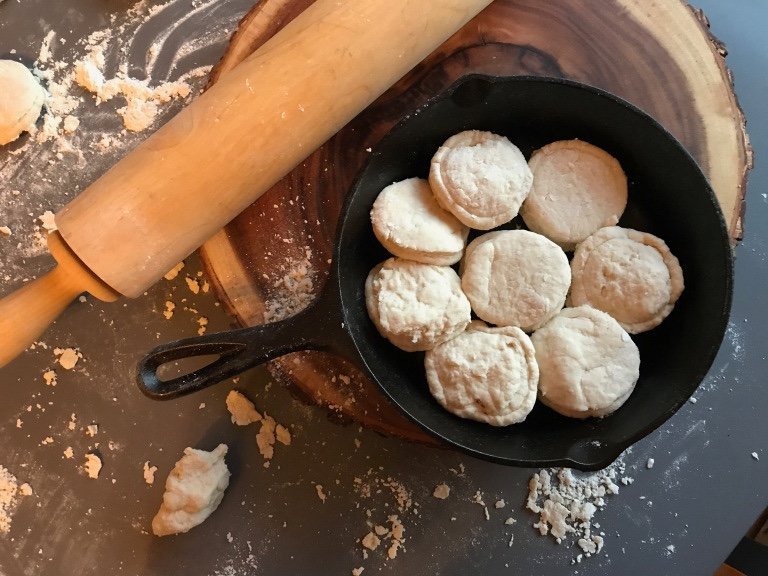 Makes 8 biscuits
Ingredients
2 cups all-purpose flour (I used Martha White self-rising flour)
1 tablespoon baking powder
1/2 teaspoon kosher salt
1/2 teaspoon sugar
1/2 cup cold salted butter, cubed
1 cup whole buttermilk, divided
1 tablespoon salted butter
Instructions
Preheat oven to 425 degrees
In a large bowl mix all dry ingredients whisking them together.
Cut in the cold butter using a pastry blender. The mixture should be crumbly.
Add the buttermilk 1/4 cup at a time slowly until the dough becomes moist.
Knead the dough until it is fully combined together.
Lightly flour a cutting board and roll the dough out until its 3/4 inch thick.
Fold over the dough and roll out again to be about 3/4 inch thick.
I used a 1/2 measuring cup to cut the dough so that each biscuit would fit into a Lodge mini cake pan but can also be done on a large skillet or flat cast iron pan.
Bake until golden brown. Around 19 minutes.
When done lightly coat the top with the butter.
Cut in half and drizzle honey on the biscuit. This is also really good with gravy.
Credit: Adapted from Cast Iron Baking Magazine Buttermilk Biscuits (Page 15)