Skillet Creamed Corn Cornbread
Whether serving up a bowl of chili or your favorite BBQ, this Skillet Creamed Corn Cornbread is the perfect compliment to your meal.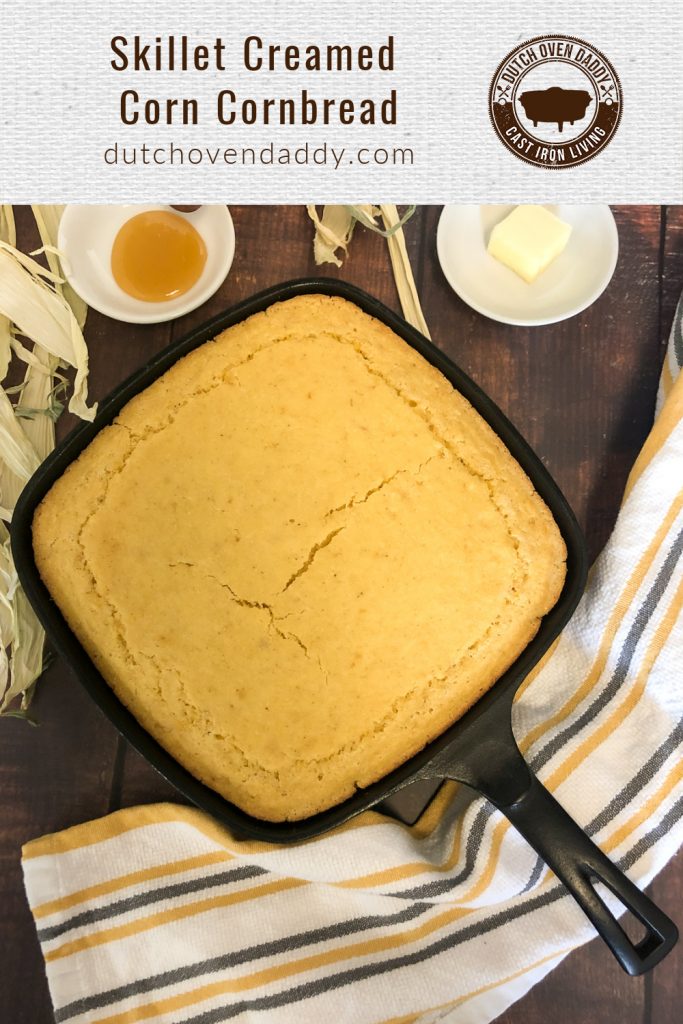 I love cornbread.
Any cornbread.
Good cornbread.
Bad cornbread. Ok, maybe not as much, but still…cornbread.
It's probably due to my formative years growing up in Tennessee, where every newborn baby is issued a cast iron skillet along with their birth certificates and SSN's specifically for making cornbread.
Creamed Corn Cornbread
Leaving the great Southern debate of 'sugar or no sugar' in cornbread aside, this recipe uses honey. (Shhh, I know that's just a sticky sugar.)
This cornbread is not only delicious but it has a slightly different texture then your typical cornbread.
It is dense, moist, a little sweeter (more due to the creamed corn than the honey), and a whole lot heartier.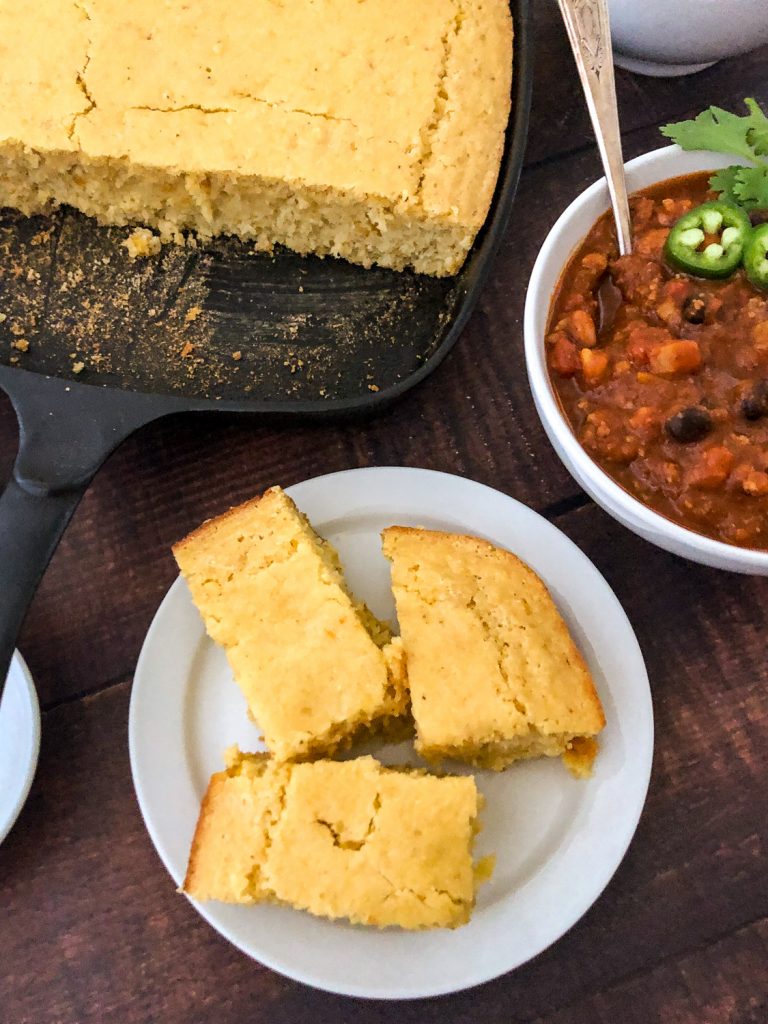 Is it sweet?
Sort of.
The majority of the sweetness comes from the canned creamed corn versus the honey.
It's not dessert- or cake-like sweet, like my Cast Iron Sweet Cornbread, but it isn't wholly savory either. If I was to put it on a scale, it's 60/40, with 60 being savory.
Although, I'm not above slathering this skillet creamed corn cornbread in butter, drenching it in honey and eating it for dessert either. But that's just me.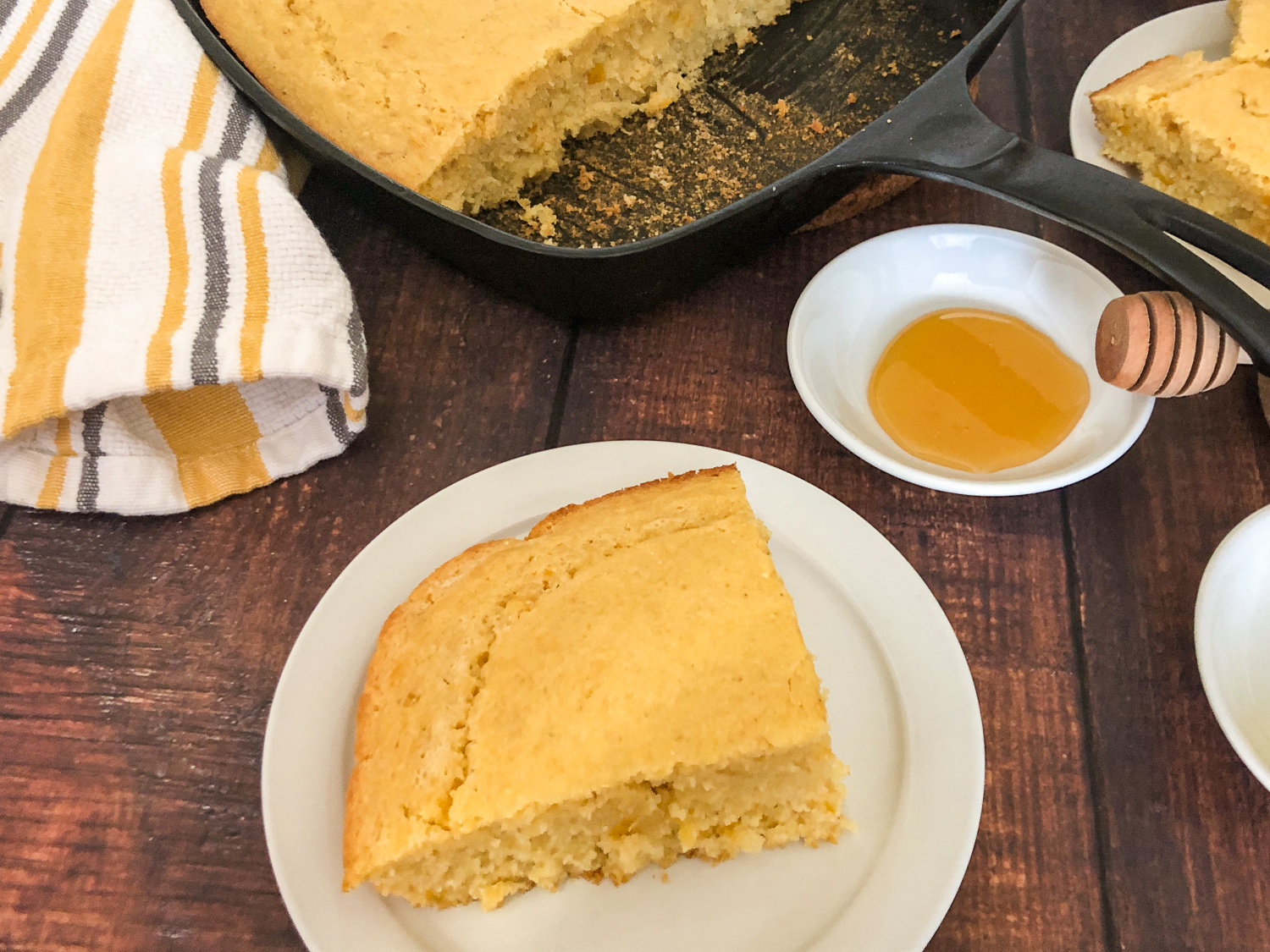 What is creamed corn?
In the most succinct way possible, creamed corn is the combination of whole sweet corn kernels and puréed sweet corn.
When the sweet corn is puréed, the natural juices and corn solids create a milky, soupy, mashy, `creamy' mixture.
You know when you've bitten into fresh corn on the cob and it squirts all over the place? It's that liquid that becomes the creamy base for creamed corn.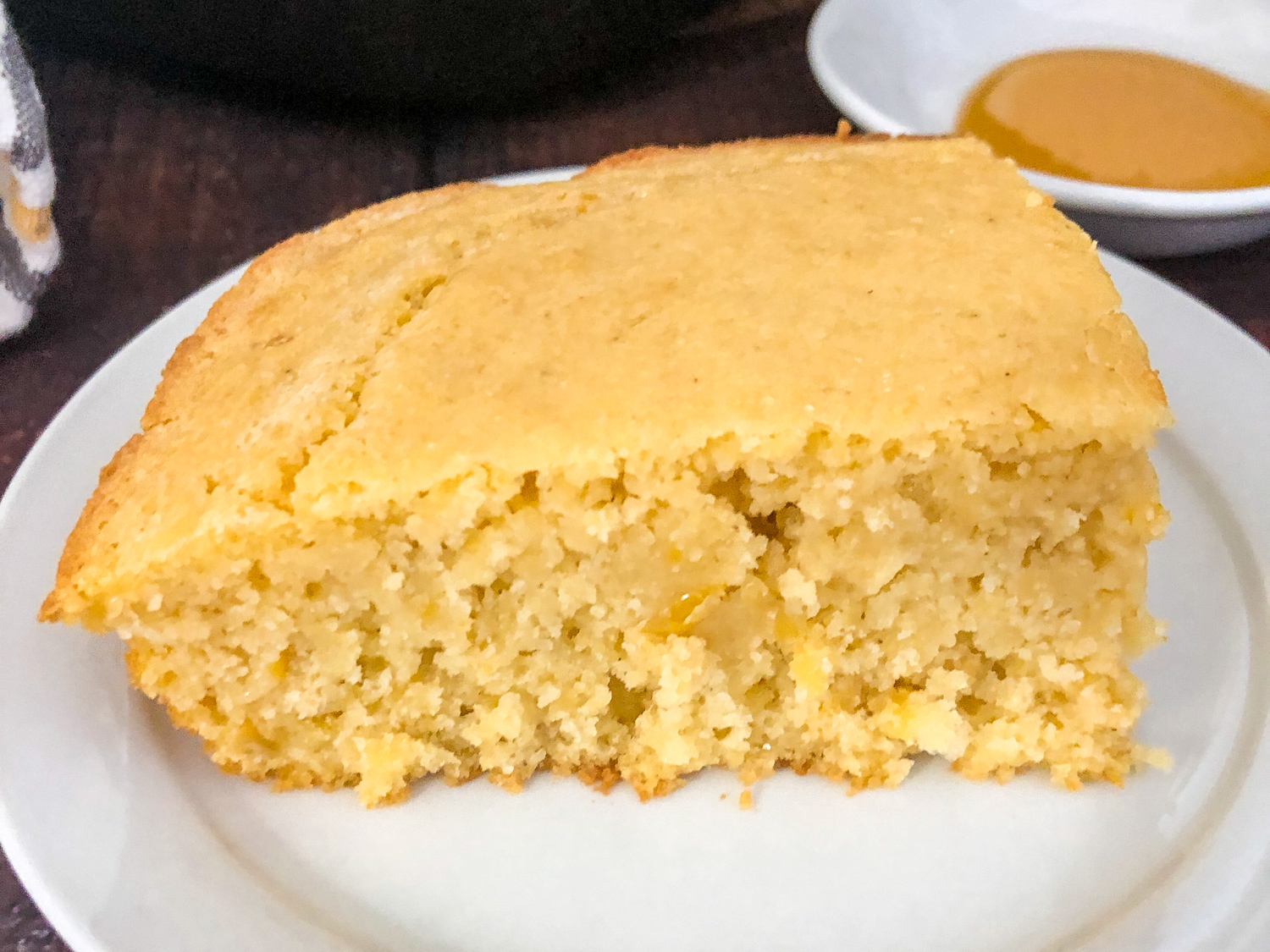 Does canned creamed corn have dairy?
No, there is no dairy in canned creamed corn. Usually.
The word creamed in creamed corn is due to that milky puréed sweet corn. However, a lot of homemade creamed corn recipes do have dairy of some kind, either cream/milk or butter, or both.
Fun fact:
Did you know that you could eat corn straight from the cob raw? It's good for you, crunchy, and sweet. Just make sure you've given it a thorough washing first.
How to make skillet creamed corn cornbread.
Just like you, I hate to dirty more than a single bowl to make a recipe. But sometimes you just have to.
Preheat the oven to 425°F.
Sift the flour, cornmeal, baking powder, and salt into a large bowl.
Why do I have to sift my dry ingredients?
Sifting the dry ingredients together helps them become evenly distributed, in theory anyway.
Obviously, how can the last thing you added to the sifter become evenly distributed when you begin sifting? I usually mix them up in the sifter with a table knife or spoon. Or in the bowl before adding to the sifter
Then why sift?
Honestly, I sift to break up the little clumps of the individual ingredients, and to blend the flour and cornmeal together before adding the wet ingredients.
Skip the sifting and get mixing.
Feel free to skip the sifting and stir the dry ingredients together in the bowl. (But if the recipe turns out horrible and inedible, you'll know why and only have yourself to blame. 🤣)
In a medium bowl whisk the eggs softly until they're broken. Don't let them get frothy.
Then whisk in the creamed corn, milk, honey, and melted butter to the eggs until thoroughly combined.
At this point, I stop and generously coat the cast-iron skillet with butter.
What should I use to grease my skillet?
You can use oil, cooking spray, lard, bacon grease, or that hair gel from the 90's you still have lying around, whatever.
OK, maybe not the hair gel. (My legal team says I need to say do not use the hair gel–it's just a joke.)
Toss the coated skillet into the oven to get hot while you finish making the batter. Yes, this will make the butter melt.
Slowly, incorporate the wet ingredients into your possibly-sifted-but-maybe-not dry ingredients, stirring until you have a nice smooth yet lumpy batter.
FYI, the lumps should be from the corn.
With care, remove the skillet from the oven and pour in the batter. Smooth it out to make it even and toss that bad boy back in the oven to bake.
Bake for 22-26 minutes.
Why do baking times vary?
I've made this a few times and each time, it's baked for a different amount of time. (How many times can I say time in one sentence?)
In my unscientific and unsubstantiated opinion, I think the difference in my baking times, is due to the different brands of cornmeal I have used.
Despite all being labeled `fine grain', each brand's definition of fine grain seems to be slightly different. Although, it could be my oven; it has a mind of its own.
After 22 minutes, check for doneness. Use the ole toothpick trick. And you want a nice, slightly browned top. But not too brown. We're not going for a toasted or charred cornbread.
Once it's done, pull it out of the oven and let it sit for a minute to slightly cool down before slicing, buttering, serving, and devouring.
But you still want it warm or how else will you get the butter to melt?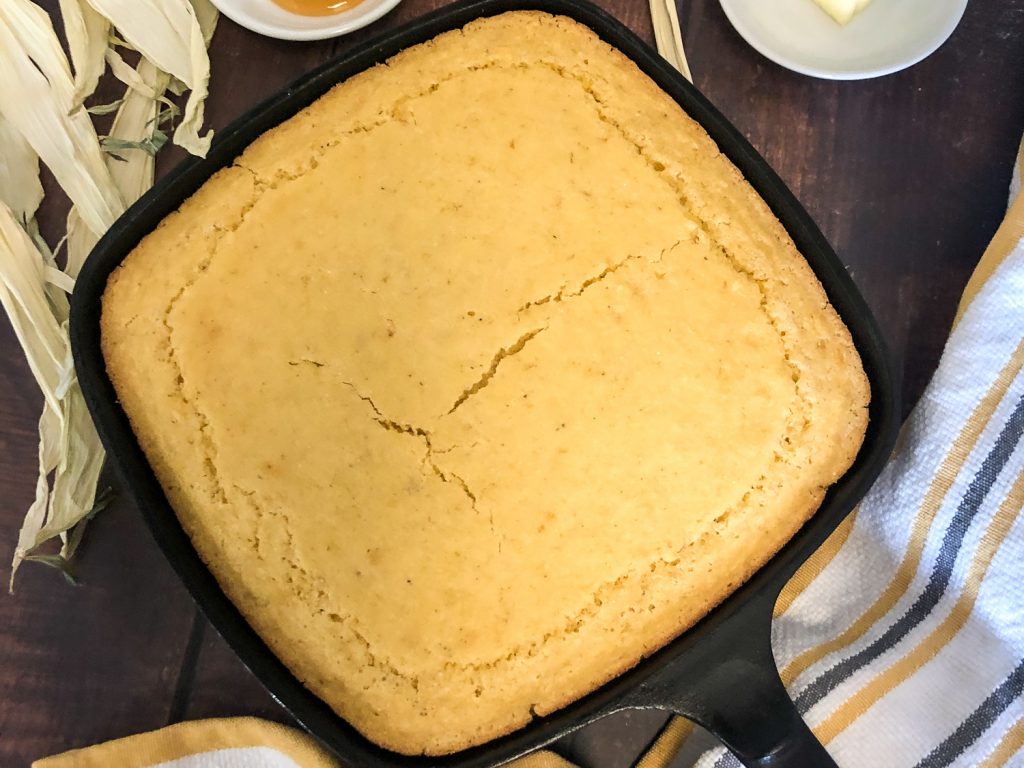 What is cornbread good with?
Um, everything! But here's a few ideas: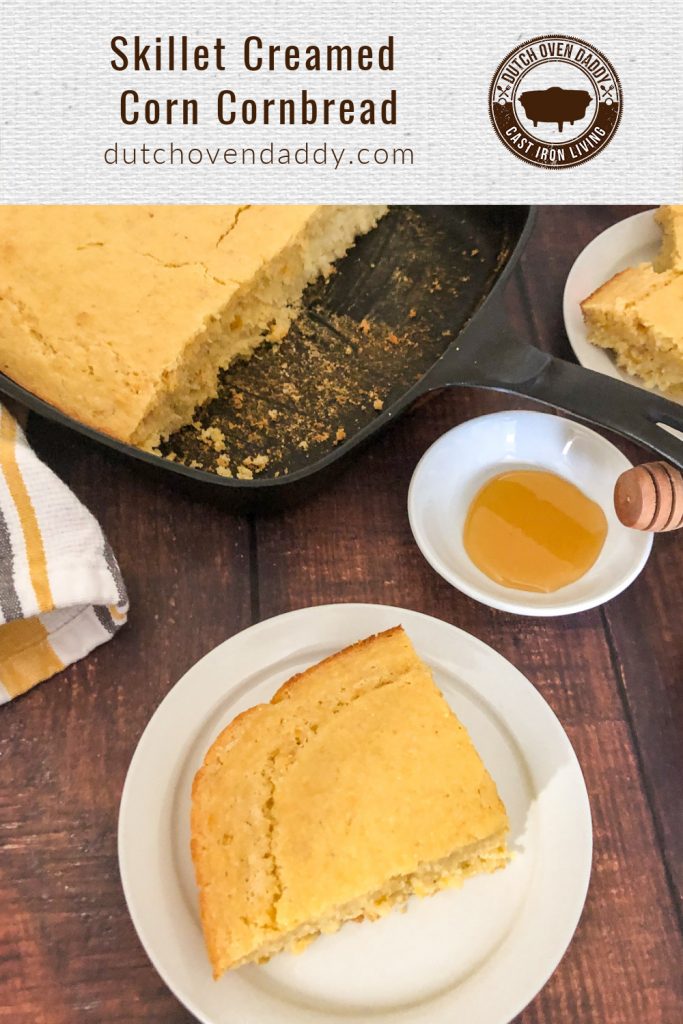 Print Recipe
Skillet Creamed Corn Cornbread
Whether serving up a bowl of chili or your favorite BBQ, this Skillet Creamed Corn Cornbread is the perfect compliment to your meal.
Equipment
10-inch cast iron skillet
Ingredients
4

tbsp

butter

divided, melted, coating

1

cup

all purpose flour

1

cup

cornmeal

2

tsp

baking powder

2

tsp

salt

14

oz

canned creamed corn

(14-15 oz)

2

large eggs

1

cup

2% milk

3

tbsp

honey
Instructions
Using 1 tbsp soften butter, coat the skillet.

Pre-heat oven to 425°F and put the coated skillet in to preheat.

Sift the flour, cornmeal, baking powder, and salt into a large bowl.

In a medium bowl, lightly beat the eggs to break them apart.

Add the creamed corn, milk, honey, and 3 tbsp melted butter to the eggs; mix to combine.

Stir the wet ingredients into the dry, until thoroughly combined.

Remove the now heated skillet from the oven and pour the batter in, smoothing to even.

Bake for 22-26 minutes, or until a toothpick comes out clean and the top is softly golden.

Slice and serve with your favorite meal.
Notes
Do I have to use 2% milk?
No, skim, 1%, whole, or even buttermilk work wonderfully in this recipe. 
Nutrition
Calories:
314
kcal
|
Carbohydrates:
50
g
|
Protein:
8
g
|
Fat:
10
g
|
Saturated Fat:
5
g
|
Cholesterol:
67
mg
|
Sodium:
1059
mg
|
Potassium:
233
mg
|
Fiber:
3
g
|
Sugar:
11
g
|
Vitamin A:
347
IU
|
Vitamin C:
3
mg
|
Calcium:
131
mg
|
Iron:
2
mg
Dutch Oven Daddy is not a dietician or nutritionist, and any nutritional information shared is only an estimate. We recommend running the ingredients through an online nutritional calculator if you need to verify any information.
Did you try this recipe?
Leave me a comment and rating below or Tag @DutchOvenDaddy on Instagram to show us your photos!
https://www.dutchovendaddy.com/wp-content/uploads/2020/11/Skillet-Creamed-Corn-Cornbread-13.jpg
1125
1500
Ned Adams
https://www.dutchovendaddy.com/wp-content/uploads/2019/02/Dutchovendaddylogo_web.png
Ned Adams
2020-11-21 15:24:43
2022-04-25 20:06:02
Skillet Creamed Corn Cornbread