Chocolate-Butterscotch Skillet Brownies to share with the family. This is excellent to top with ice cream and hot fudge.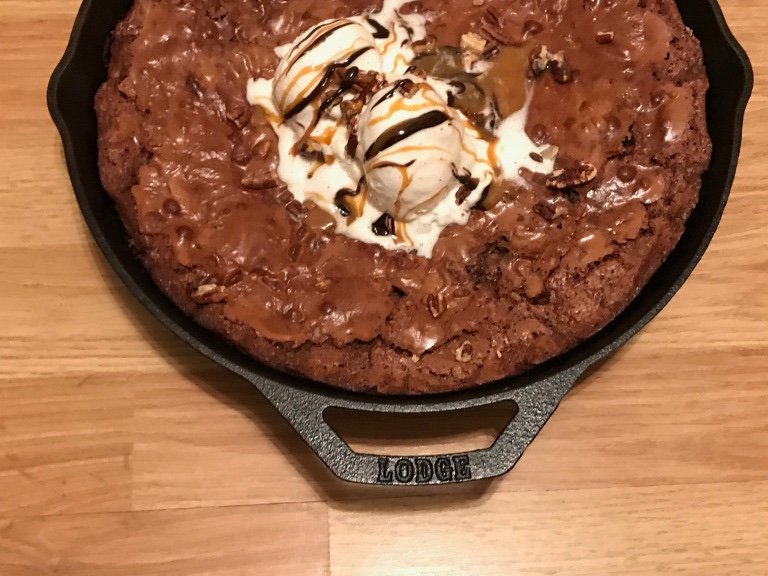 Ingredients
1 cup unsalted butter
2 tablespoons butter
1 (4 oz) bar unsweetened chocolate chopped
2 cups granulated sugar
1 1/2 cups firmly packed brown sugar
5 eggs
1 tablespoon vanilla extract
1 2/3 cups all-purpose flour
1/8 teaspoon kosher salt
1 cup butterscotch chips
1 cup semisweet chocolate chips
1 cup toasted chopped pecans
Vanilla ice cream
Directions
Preheat oven to 350 degrees. Add 2 tablespoons butter to 12″ skillet and add to the oven to be preheated.
In a pan, melt chocolate and butter over low heat. Let cool.
In large bowl, beat sugar, eggs, vanilla until fluffy. You may need to use a mixer. Add flour and salt until mixed in well.
Add chocolate mixture to the sugar mixture stirring until mixed well. Add butterscotch, chocolate chips and pecans. Add batter to skillet and bake 35-40 minutes.
Top with ice cream.
Credit: Southern Cast Iron Magazine Baking 2017 Edition