Cajun Shrimp and Sausage Skillet is a delicious cajun dish that packs a lot of flavor! It's quick, easy and only takes 20 minutes to make!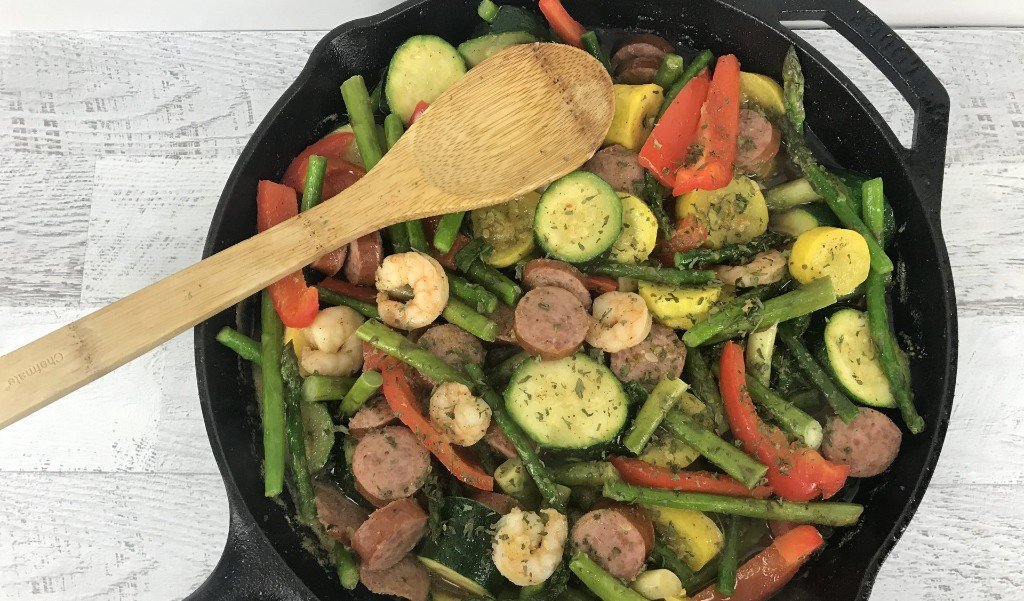 Ingredients
1 pound raw large shrimp, peeled and deveined
14 ounce pork or chicken sausage, sliced
2 medium sized zucchini, sliced
2 medium sized yellow squash, sliced
½ bunch asparagus, sliced into thirds
2 red bell pepper, chopped into chunks
Sea Salt and Freshly Ground Pepper
2 Tablespoons extra virigin olive oil
2 Tablespoons Original Creolle Cajun Seasoning
Instructions
In a large bowl add the shrimp, sausage, zucchini, yellow squash, asparagus, bell pepper and sea salt and freshly ground pepper. Add olive oil and original creolle cajun seasoning and mix.
Add to a 12″ cast iron skillet and turn to medium high. Cook for about 8-10 minutes until the shrimp is pink and the vegetables are tender.
Garnish with fresh parsley if desired and serve immediately.