Dutch Oven Pizza Pasta takes all the classic flavor of pepperoni pizza but serves it up in cheesy pasta dish baked in your favorite cast iron pot.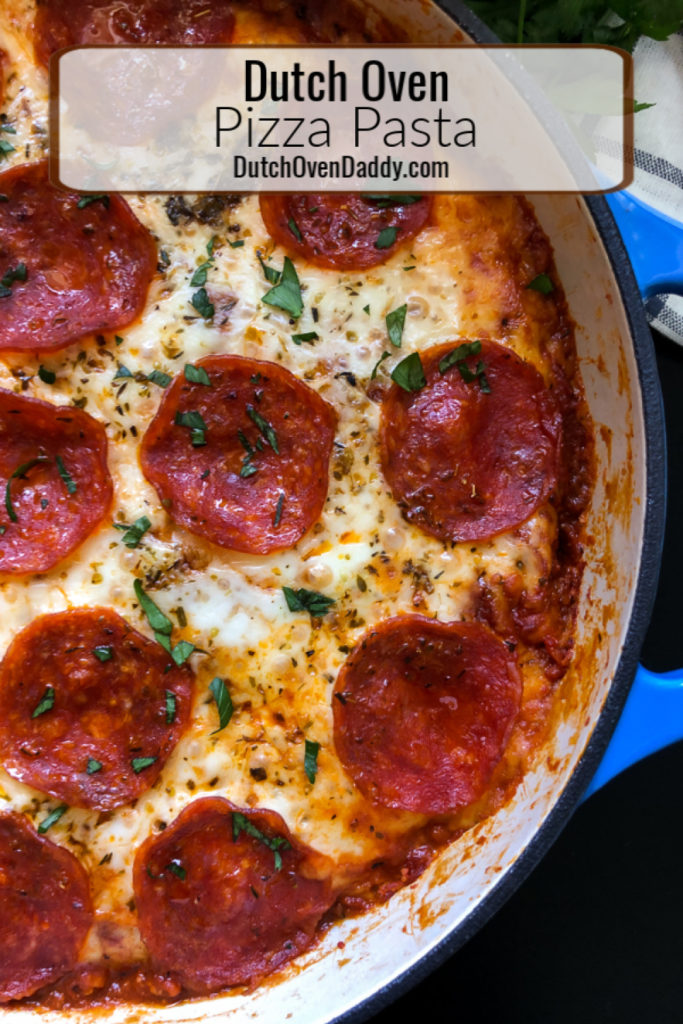 This Dutch Oven Pizza Pasta post has been updated from its original August 8, 2017 publishing with corrected recipe directions, step by step directions, and new photography.
What is Pizza Pasta?
Pizza pasta is not actually a pizza, or a pizza with pasta on or in it. Think of it as a baked macaroni and cheese but better.
The first layer in the dutch oven is a seasoned batch of macaroni and cheese that will cook up firm, acting like the crust of a pizza.
After the cheesy pasta layer, pizza sauce and cheese is added and then finally topped with pepperoni.
Once the pasta is assembled like your favorite pie, it's baked in the oven and served once cooled.
Can I Pick up Pizza Pasta like a Normal Pizza?
Well…
Sure, sort of.
If the bottom layer firms up the way it's supposed to you can surely pick it up and eat it. The trick to being able to do that is letting it rest (or cool) after coming out of the oven.
If you don't let it rest, well, imagine trying to pick up a piece of hot lasagna.
But just use a fork.
Why do Recipes Say to Undercook Pasta?
There is nothing worse than sitting down to your delicious pasta dinner, taking that first bite, and have undercooked pasta.
If that bite is so gross, why do so many recipes say to undercook pasta by 2-3 minutes?
You'll see this instruction on a lot of pasta recipes that start by being boiled on the stove but then are going to be finished by either baking in the oven or on the stove with other ingredients mixed in. (Like baked ziti, for example.)
When you're simply boiling the pasta, adding sauce, then serving, you want the pasta cooked perfectly. However, if you're going to continue to heat the pasta in a different manner with other ingredients, the pasta will become mushy.
You'll be left with an undesirable dish.
Recipes say to under cook pasta because once it's mixed with the other ingredients and going to resume being heated, the pasta will finish cooking with the dish as a whole.
How to Make Dutch Oven Pizza Pasta
We all love easy, quick recipes. But nothing will lengthen a quick recipe faster than not taking a minute to prepare.
Your first step is to read through the recipe in its entirety so you can see all the tools you're going to need, any special directions like dividing an ingredient to be use at two different points during recipe construction.
Get out all your ingredients, get them measured and ready to go. You don't need to be fancy and place them in their own individual bowls like you see on TV.
While your water is on to boil, both the sauce and pasta layers can be prepared and be ready to go for when you drain the under-cooked pasta.
Once your water is boiling, generously salt it, allow it to boil back up in fury, then add your pasta. We're using small shells because they're cute, but you can use any small pasta.
Get your eggs in the bowl and give them a light beating I like to add the black pepper now, but you can add it with all the rest of the ingredients.
Add 1 ½ cups Parmesan, (reserving the remaining 1/2 cup for a later usage,) ½ cup (2oz) mozzarella (reserving the rest as well), pepper (if you haven't already), parsley, and 2 tsp. oregano (reserving the remaining for later too) into the eggs. Stir or whisk it until it becomes combined.
The mixture will not be smooth, and that's ok. The pasta and milk with make it creamy.
Toss in the drained pasta and pour in the evaporated milk.
Add the newly mixed macaroni and cheese to the dutch oven. You'll see some milk rise to the top, but not a lot. If you want a creamier pasta, you can add the entire contents of the can you opened for this recipe.
If you do that, the pasta will be creamy but will not be firm and easy to slice. It's a personal preference on both taste and presentation. Both ways are delicious to me.
Preparing the Pizza Pasta Sauce
For quick an easy recipes, I like to use jarred sauces. I used pizza sauce for this recipe, but have made it many times using jarred pasta/spaghetti sauce or homemade sauce. Which ever way you go, make sure you use 24-28 oz of sauce (pasta and pizza sauces come in different size jars, hence the variation.)
To enhance and deepen to the flavor of jarred sauce, add 1 tsp. oregano and ¼ cup Parmesan and stir it together.
Pour the newly enhanced pizza sauce over the setting macaroni and cheese layer. Smooth it out, making it as even as possible.
Sprinkle the final remaining 1/4 cup parmesan cheese on top of the pizza sauce. Yes, this is one cheesy dish.
Add all the remaining shredded mozzarella to the casserole.
Now it's time to add all that delicious pepperoni. You can add as little or as much as you like. This definitely is a personal preference step.
After you've added the desired amount of pepperoni, sprinkle on the last remaining bit of oregano, cover, and bake. Don't forget to let this One Pot Pizza Pasta rest or cool after it has finished baking.
Easy Pasta Recipes
If you love how easy this Dutch Oven Pizza Pasta recipe is, you'll enjoy these other delicious and quick pasta recipes.
Print Recipe
Dutch Oven Pizza Pasta
Dutch Oven Pizza Pasta takes all the classic flavor of pepperoni pizza but serves it up in cheesy pasta dish baked in your favorite cast iron pot. 
Equipment
3.5 quart enameled Dutch oven
Ingredients
12

oz

small shell macaroni, uncooked

water

for boiling pasta

salt

for pasta water

4

eggs

2

cups

grated Parmesan cheese; divided

8

oz

shredded part-skim mozzarella cheese; divided

(2 cups)

¼

tsp

ground black pepper

2

tbsp

fresh parsley; chopped, plus more for optional garnish

3¼

tsp

dried oregano; divided

1

cup

evaporated milk

28

oz

pizza sauce

2-14 oz. jars

15

slices

pepperoni slices
Instructions
Cook pasta 2-3 minutes LESS than package directions; drain and slightly cool

While pasta cooks, in a large bowl gently beat the eggs.

Mix 1 ½ cup Parmesan, ½ cup (2oz) mozzarella, pepper, parsley, and 2 tsp. oregano into the eggs until combined.

Add the pasta into the egg and cheese bowl.

Pour in the evaporated milk and stir mixture until combined. 

Add mixture to a 3.5 quart Dutch oven and smooth the top.

In a bowl, combine the pizza sauce, 1 tsp. oregano, and ¼ cup Parmesan together.

Evenly pour sauce over pasta mixture, smoothing out the layer.

Sprinkle the remaining ¼ cup Parmesan over the sauce.

Add the remaining 1½ cups (6 oz.) mozzarella to the top layer, taking care to fill in any holes. 

Layer the pepperoni in any desired fashion. 

Sprinkle the remaining ¼ tsp. oregano over the cheese.

Cover; Bake for 25-30 minutes.

Allow to rest for at least 5 minutes before serving, allowing the pasta to firm up. 

Garnish with additional fresh parsley if desired. 
Nutrition
Calories:
470
kcal
|
Carbohydrates:
43
g
|
Protein:
30
g
|
Fat:
20
g
|
Saturated Fat:
10
g
|
Cholesterol:
132
mg
|
Sodium:
1221
mg
|
Potassium:
630
mg
|
Fiber:
3
g
|
Sugar:
9
g
|
Vitamin A:
1100
IU
|
Vitamin C:
9
mg
|
Calcium:
610
mg
|
Iron:
3
mg
Dutch Oven Daddy is not a dietician or nutritionist, and any nutritional information shared is only an estimate. We recommend running the ingredients through an online nutritional calculator if you need to verify any information.
Did you try this recipe?
Leave me a comment and rating below or Tag @DutchOvenDaddy on Instagram to show us your photos!
https://www.dutchovendaddy.com/wp-content/uploads/2017/08/Dutch-Oven-Pizza-Pasta-3.jpg
1200
900
Ned Adams
https://www.dutchovendaddy.com/wp-content/uploads/2019/02/Dutchovendaddylogo_web.png
Ned Adams
2019-09-05 19:30:55
2020-12-01 15:34:53
Dutch Oven Pizza Pasta