Chicken Broccoli Skillet Casserole is a delicious skillet meal that is awesome with a rotisserie chicken.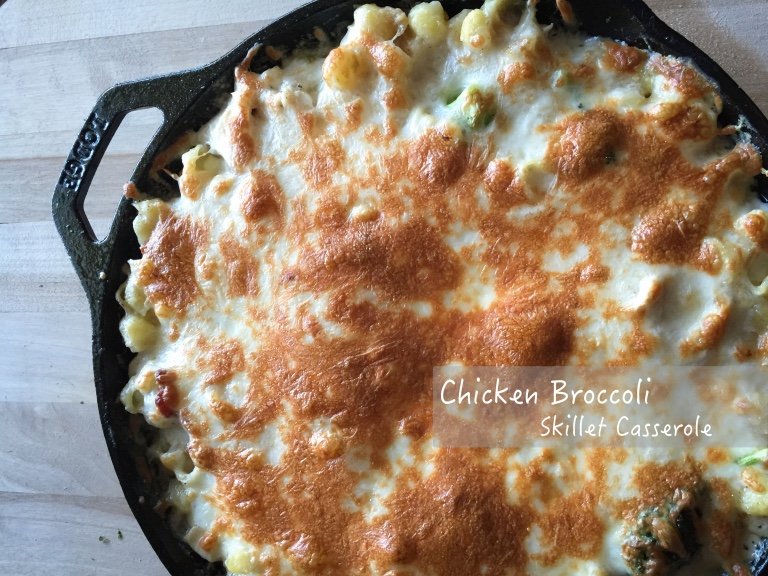 Ingredients
4 slices bacon, chopped
1 cup fresh broccoli florets
1⁄2 cup unsalted butter
1 clove garlic, minced (I used 1 spoon full of garlic powder)
1⁄4 cup all-purpose flour
2 1⁄2 cups whole milk
2 cups mozzarella cheese, divided
3 cups small pasta shells, cooked according to package directions
3 cups shredded cooked chicken
Instructions
Preheat oven to broil.
In a 10-inch cast-iron skillet, cook bacon over medium heat until crisp. Remove bacon using a slotted spoon, and let drain on paper towels, reserving drippings in skillet. Add broccoli; cook until bright green and heated through, 2 to 3 minutes. Remove from skillet with a slotted spoon.
Add butter to pan, and melt over medium heat. Add garlic and flour, whisking to combine. Gradually whisk in milk until thickened. Stir in 1 cup cheese until melted. Stir in cooked pasta, chicken, bacon, and broccoli; top with remaining 1 cup cheese.
Broil 5 inches from heat until cheese begins to brown, 5 to 7 minutes.
Credit: Taste of the South Magazine (http://www.tasteofthesouthmagazine.com/)