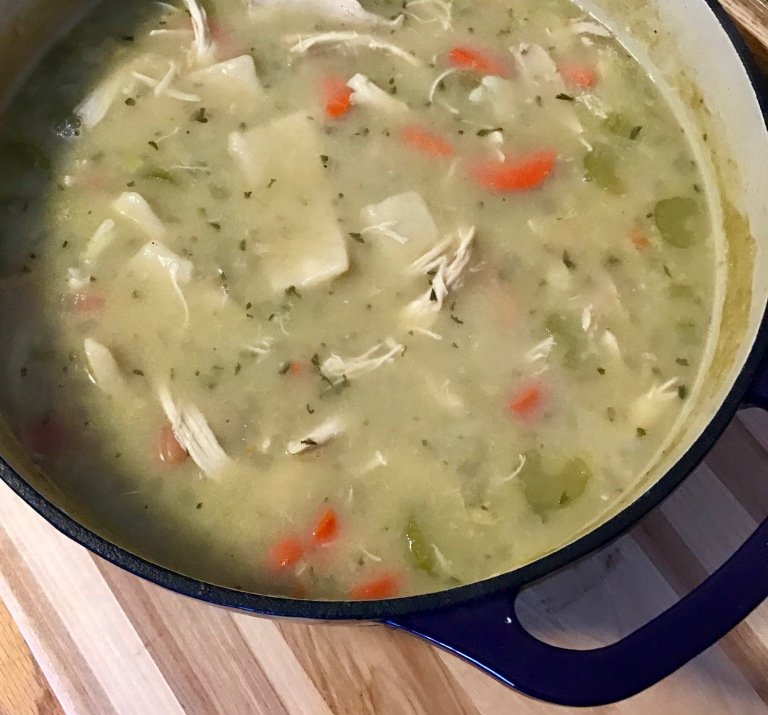 Ingredients
1 tablespoon olive oil
1 cup chopped onion
1 cup sliced carrot (about 2 whole carrots)
1 cup sliced celery (about 2 celery stalks)
1 tablespoon minced fresh garlic (I used 1 tablespoon garlic powder)
3 (32 oz) chicken broth
1 small bunch of fresh thyme (I used 2 teaspoons ground thyme)
2 1/2 cups all-purpose flour, divided
1 tablespoon plus 1/2 teaspoon salt
2 tablespoons cubed unsealed butter
1/2 whole milk
4 cups shredded chicken (I used 5 cups of a rotisserie chicken)
1/4 teaspoon ground black pepper
1/3 cup chopped fresh parsley
Instructions
In a 5 quart dutch oven heat olive oil over medium heat cook onion, carrot, celery, garlic until soft. Add chicken broth and ground thyme and bring to a boil.
In a seperate medium bowl, mix 2 cups flour, and 1/2 teaspoon of salt. Cut butter into flour mixture. Stir whole milk in until a dough forms. Roll dough out on a floured surface and cut into 1 by 3 inch pieces that are about 1/8 to 1/4 inch thick.
Add dumplings into stock making sure they don't stick to the bottom. Cook for 15 minutes and reduce to low heat at the end of the 15 minutes.
In a small bowl add 1/2 cup flour with 2 cups of chicken stock from the 5 quart dutch oven. Whisk together until smooth and thick. Add parsley, 1 tablespoon salt, pepper and chicken. Add mixture to dutch oven and simmer for 30 minutes.
Credit: Southern Cast Iron Magazine Spring 2016 (page 88)